Phang Nga is a small town in midway between Krabi and Phuket. There are flights to Krabi from Bangkok, of course, but even from Helsinki. But there are no flights from Krabi to Chang Mai. So as we bought a ticket to fly from Phuket to Chang Mai – we decided to stay a couple days in that middle. Phang Nga is praised on the internet and is a place where excursions take tourists to see the James Bond island as they call it. Which means there a bay full of vertical rocks similar to the ones we already saw in Ao Nang. There is a shuttle that takes from Ao Nang to Krabi bus station, there are plenty of buses going to Phuket, but you have to make sure the bus won't drop you on a highway by Phang Nga. but will drive to the middle of the town. Nobody advises you anything in Thai bus stations -ᅡᅠ from what we saw there are usually several bus companies, each has several schedules and a ticket office. A lady there usually speaks some English. so you go, ask, figure out and decide. We saw a group of mini buses in one corner of the bus station, so we went. asked them and yes. they are taking people to the bus station of Phang Ngaᅡᅠ – you have to buy your ticket from them in the bus. Usually those minibuses have lower fares than big buses, but there is much less space for luggage in them and for seats. On the way views were outstanding. Lots of places had those vertical rocks, those nature's grand sculptures. Phang Nga was one of those places. Once we came out of our bus – our hotel "Sleep Phang Nga" was right there, right in front of a cute mosque: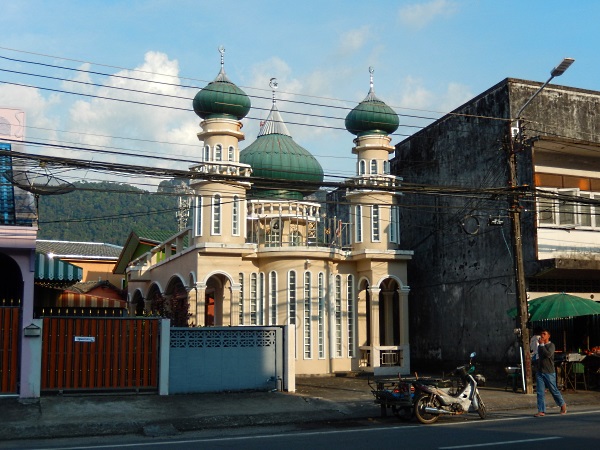 It was a perfect hotel – clean and quiet, except for a short and pleasant Muslim prayer early some mornings. The very first afternoon we went for a walk to the Dragon Cave temple. While walking I noticed that the properties. little houses in little cute gardens were neat and tidy. It seemed a town of happy people. Poverty was not seen at all. So once we reached that Dragon cave temple-ᅡᅠ our attention was caught by the dragon, of course, and it was a little scary to walk in its belly: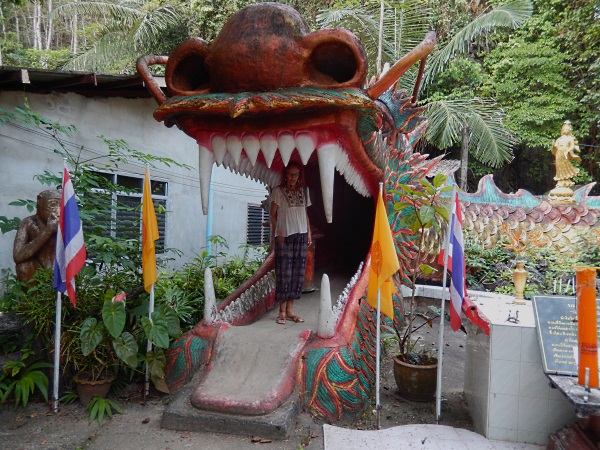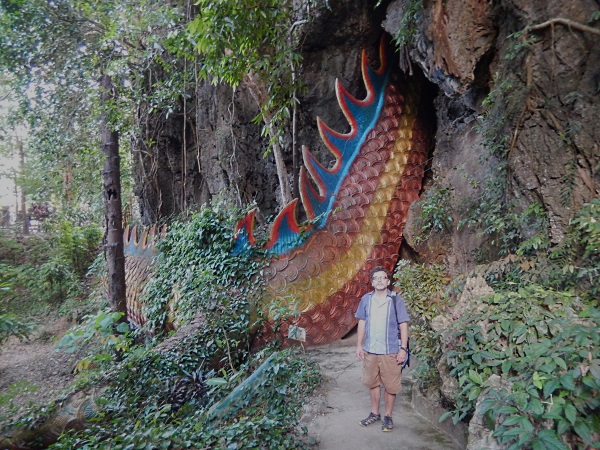 Once you get of the dragon -you see a cave under rocksᅡᅠ -but it is dark. There are little temples there, but the attention flies towards strange sculptures, lots of them, all of them describing Hell, and scary, ugly Hell it is: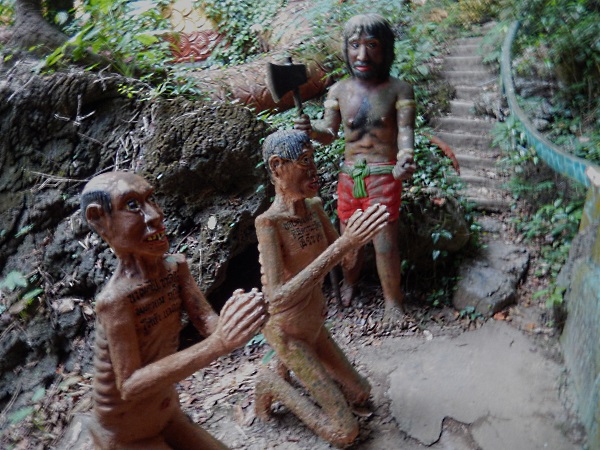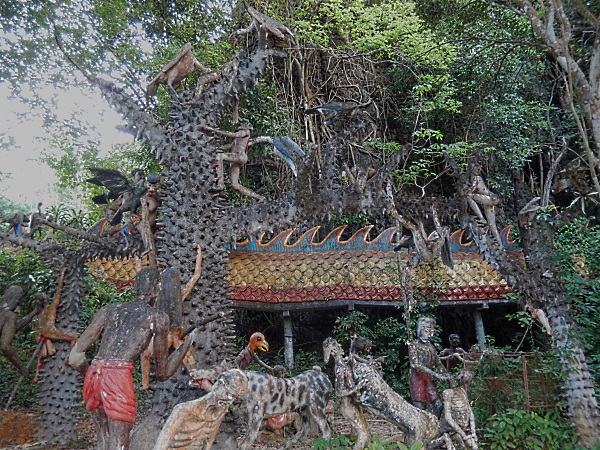 They even warn by the entrance that the more sensitive should not go: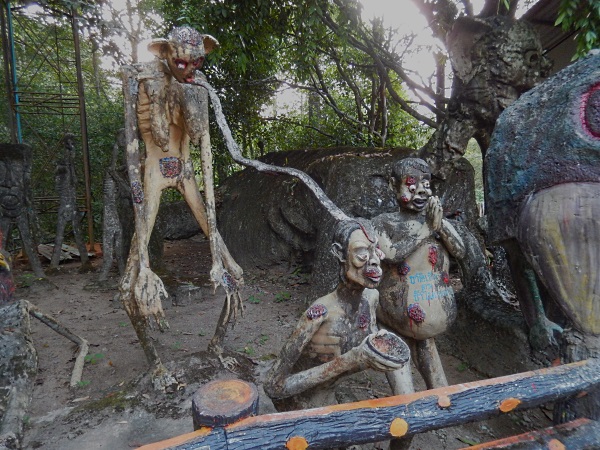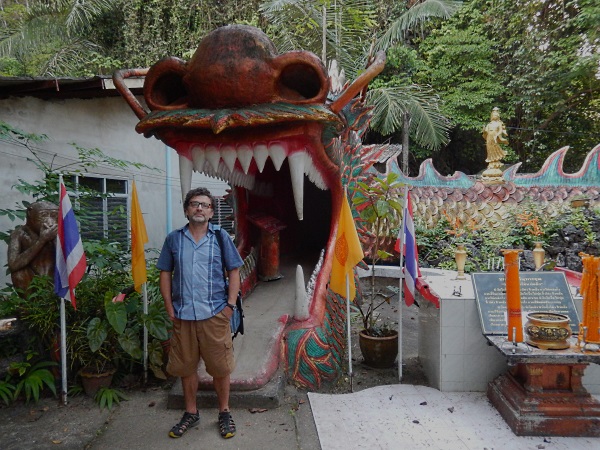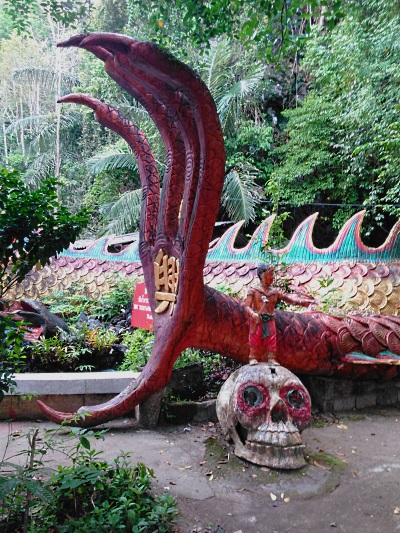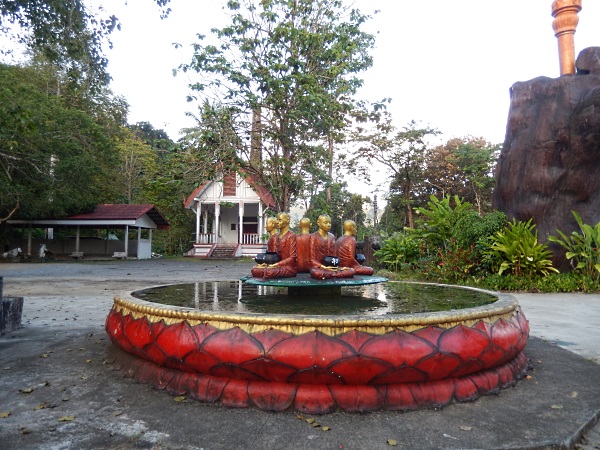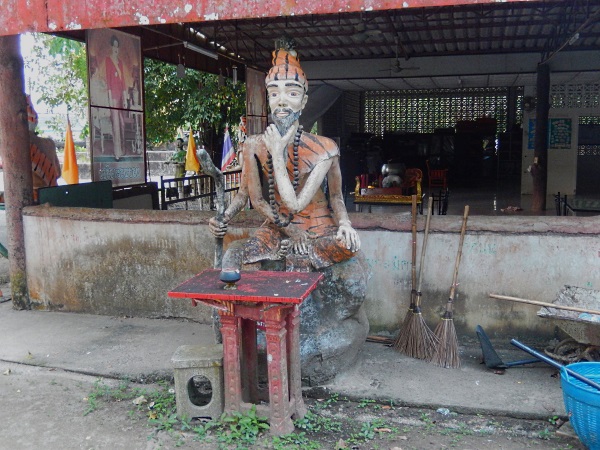 So that first evening we walked around the temple gardens and parks and were left wondering – is there Heaven somewhere? There is, but we found it only on our next visit to this temple. It took us some courage to climb the stairs hanging in between rocks: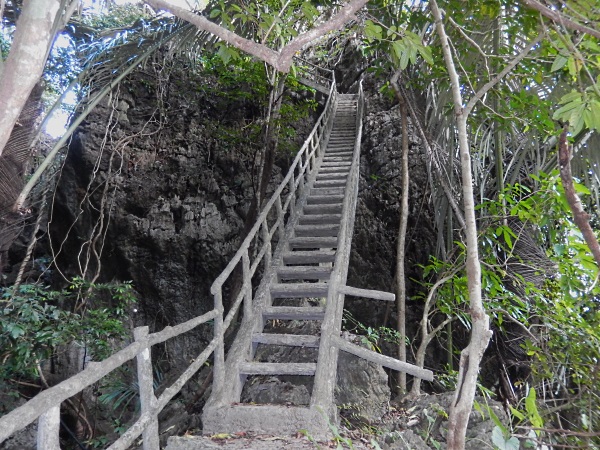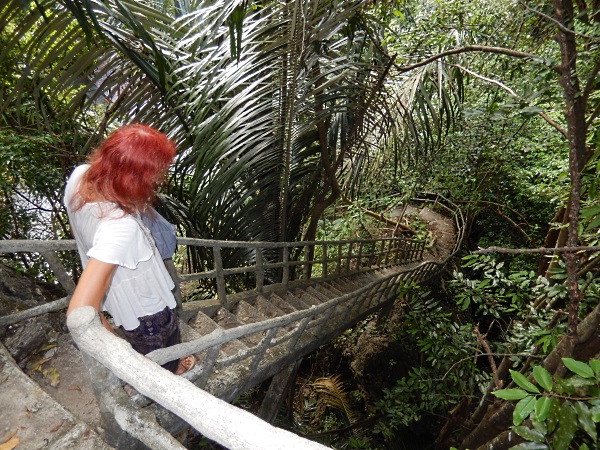 The view from the top of the temple on the rock: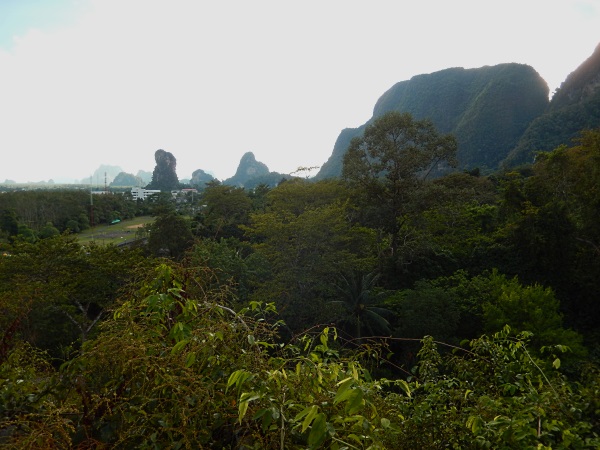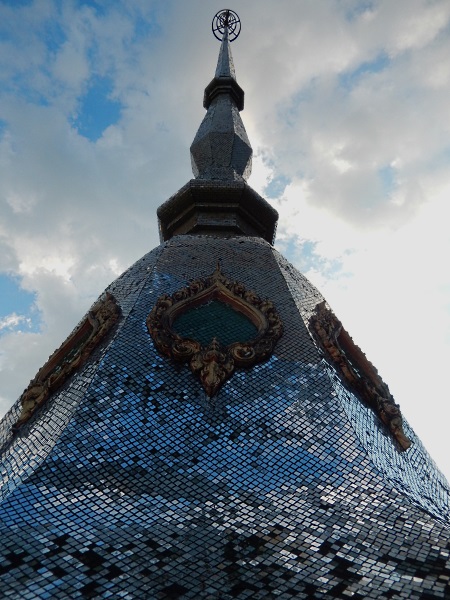 There are three parallel streets in Phang Nga on one side of the river. The other side has some houses and little streets,too, but very soon there the street end up in the jungle, or a pond or a cave. Here is another cave known for its drawings: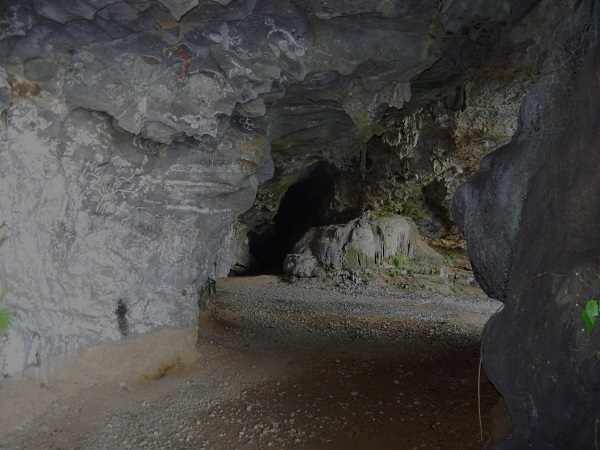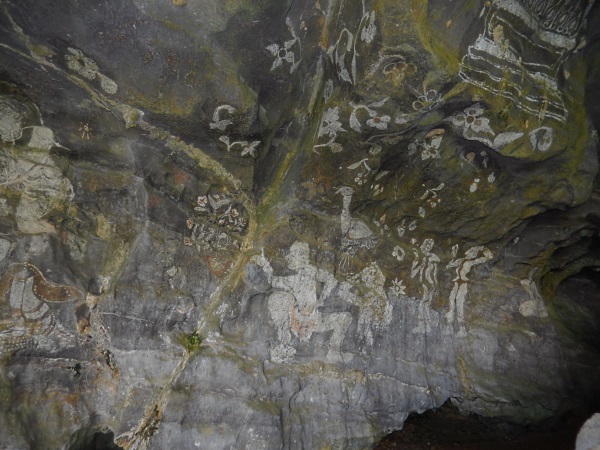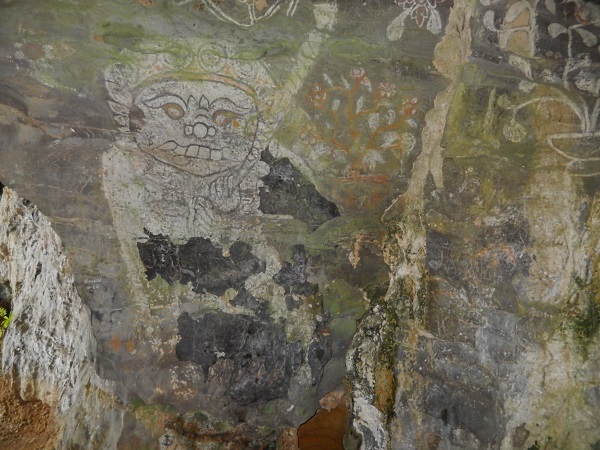 Walking there is rather pleasant, no problem finding a local restaurant. Some rent bikes and drive further, see more. There is even a park where lots of monkeys live and perform to observers. But my knee was not doing very well, and also the heat and humidity were unbearable, sweat was dripping from my cheeks, therefore we didn't investigate all the trails we saw there…What we noticed that there were lots of Chinese and Thai temples, Muslim Mosques in the small long town stuck between mossy rocks: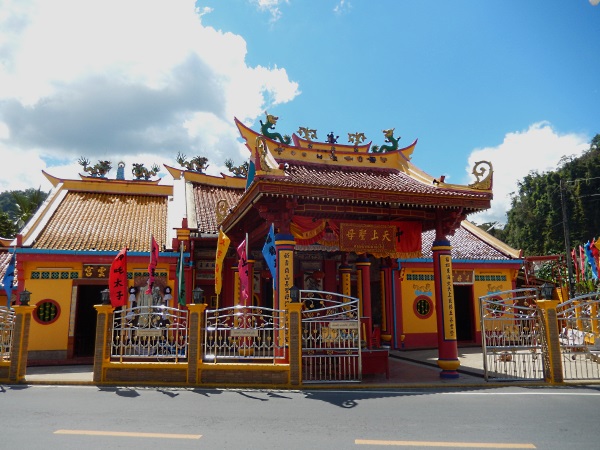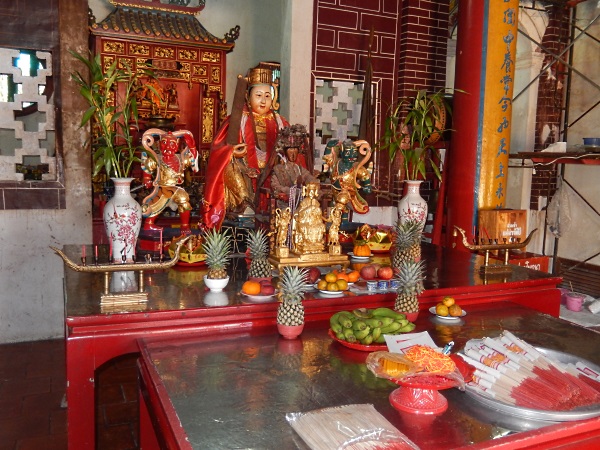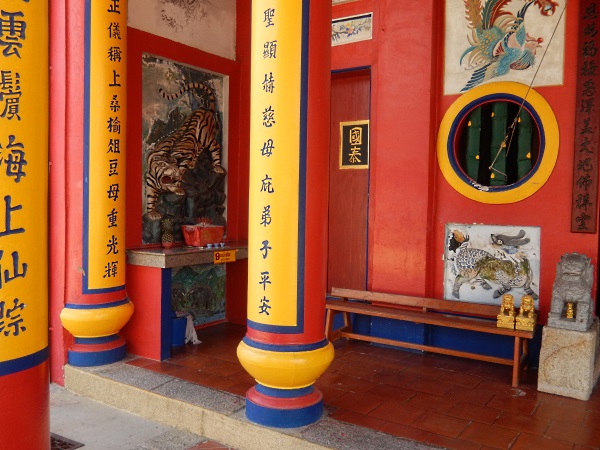 Here is how a Chinese cemetery looks like: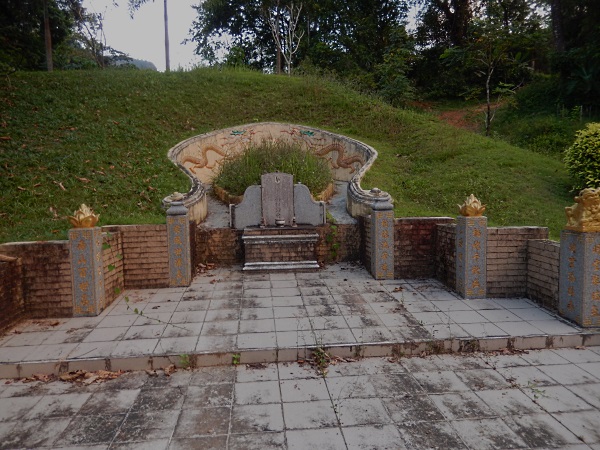 Here is a strange tree that usually grows in temple yards and has those flowers hanging from its stem: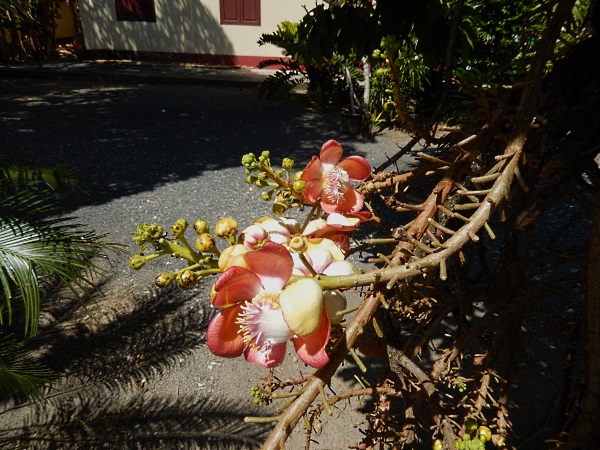 Here is a …fruit tree that also grows in temple gardens. Their fruits have some kind of smell. I wouldn't call it bad or anything. but some strange aroma once you open it or a package with cleaned pieces. Funny as it is some hotels have a policy and card in their rooms – no smoking and no …fruits in the room. They say that smell would linger in the room for three days, but I highly doubt. The fruit itself is very tasty, has some similarity with a pineapple. But it grows on trees: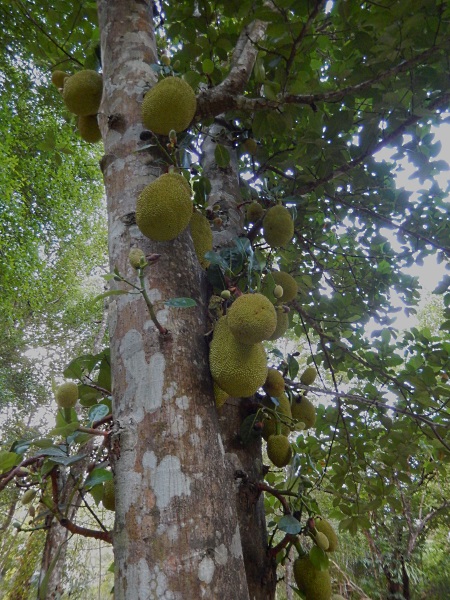 In Phang Nga we noticed different religions coexisting peacefully together. As I couldn't ask about it local people – their English was not sufficient for such a "philosophical discussion", so I checked the all knowing internet and found an interesting fact. Lots of Chinese came to live to Thailand after their revolution. And they built their churches, but they go to Thai churches, too. As well as Thai people go to Chinese religious celebrations. Chinese never stayed in their community, they mixed and mingles with Thai and also accepted their ways of life -ᅡᅠ this is a secret recipe for the future of the world, which is now mixing and mingling, but very often not mixing well enough.