From Nelson it is almost 100 km to Queen Charlotte drive, it starts in ᅡᅠ but the whole drive is beautiful. So we stopped in ᅡᅠHavelock , walked around, then drove past it to a hill where you can hike on the top a circle and see fantastic views: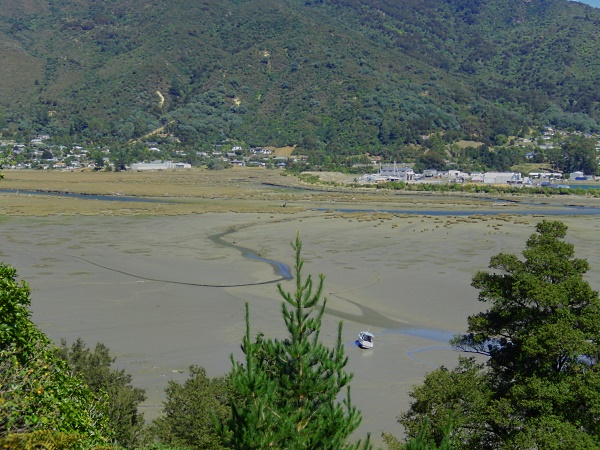 Low tide, a lonely boat on the sands or mud 🙂 Lower-Havelock: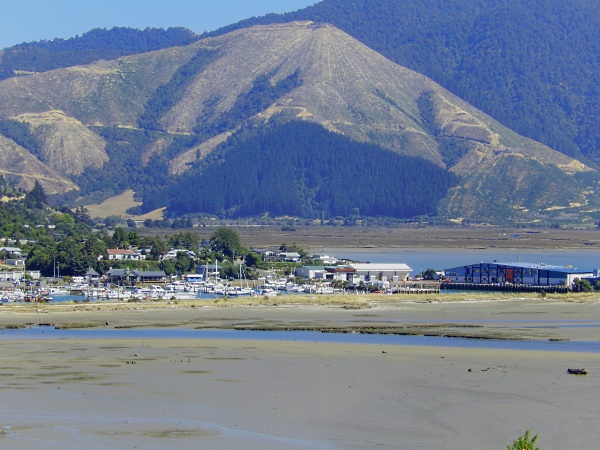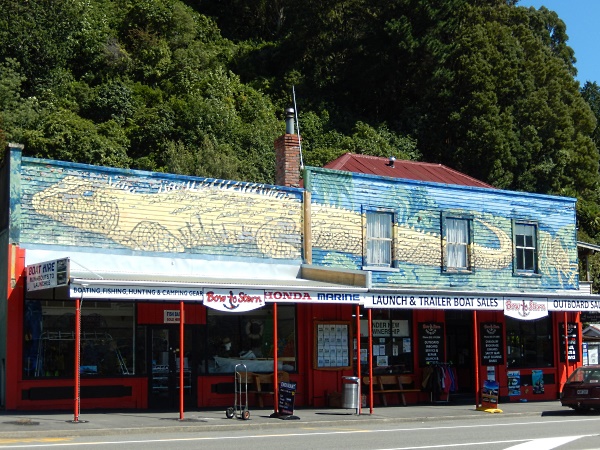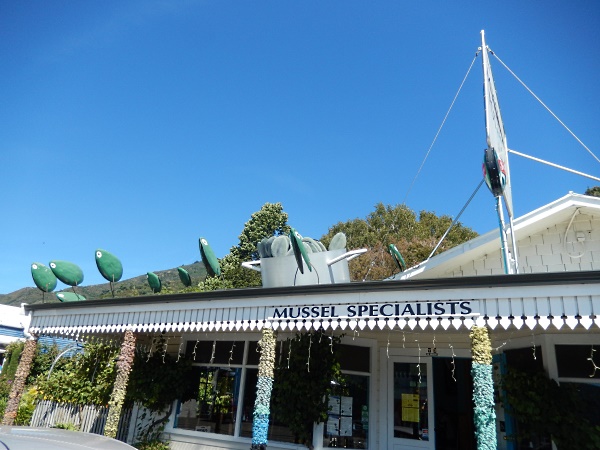 In some half hour it was hard to recognize the same view from the hill – the tide was coming so fast: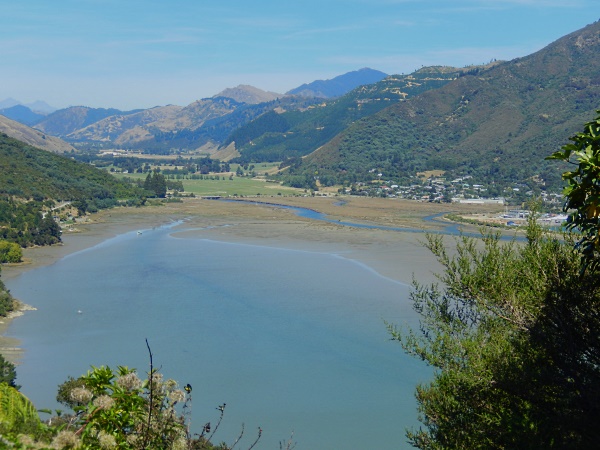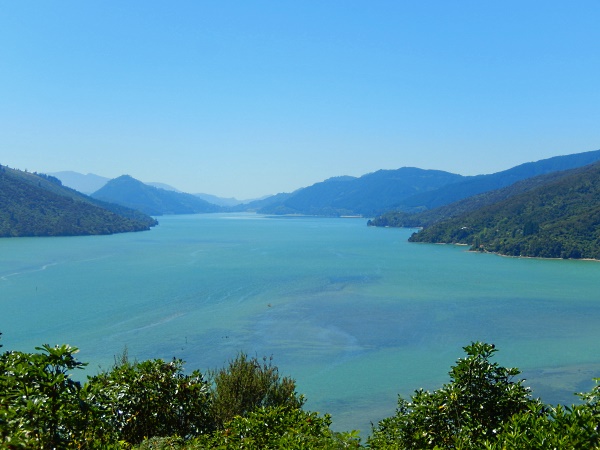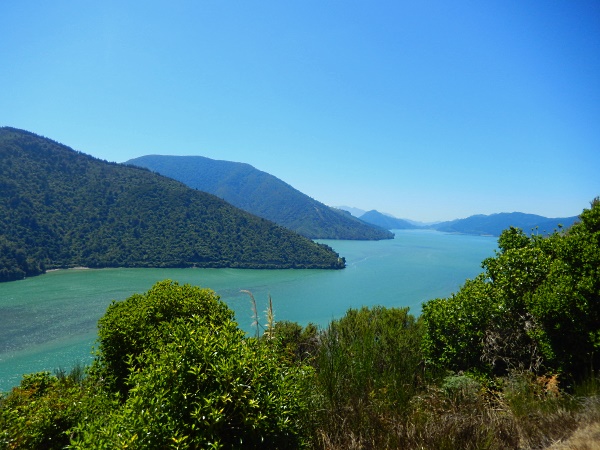 A quail: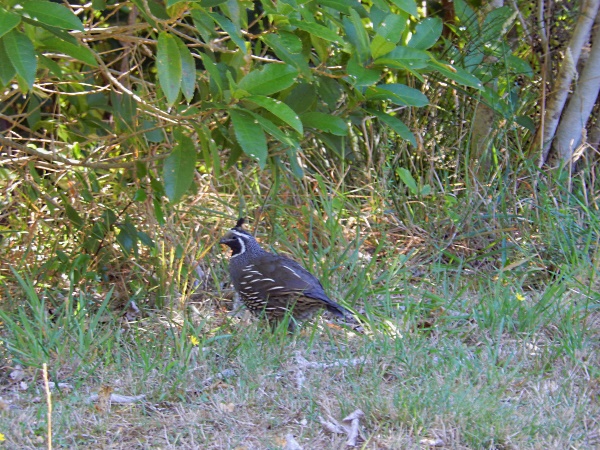 Marlborough Sounds is the top of the South island, all hills and mountains sticking from blue waters. Maori have a legend, as if their king Maui dragged the North island from waters as a fish , while sailing on his boat. And the front of the boat was very elaborately carved – this turned into Marlborough sounds. The coastline there is over 1700 km, there are so many waterways, therefore -water-taxis. etc. And the the few roads that there are- ᅡᅠthey are very curly. So we drove on the main part of Charlotte drive. then turned to Kendall drive and should have not driven more than 7 km. There we found a place like a beach where we could reach the water, some yoga ladies were having their retreat: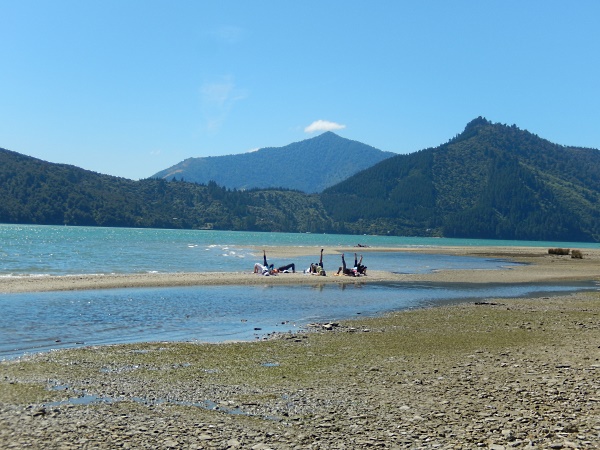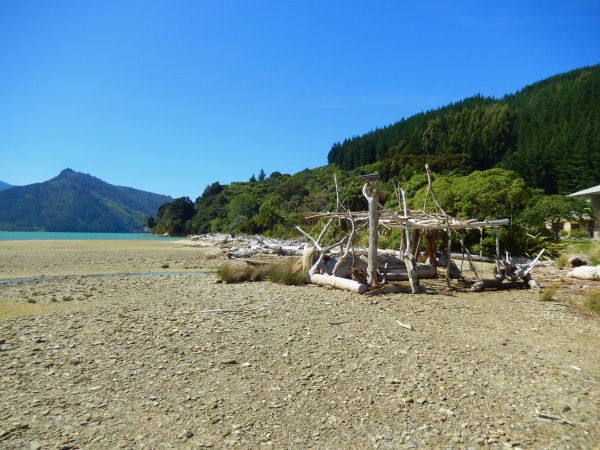 In several minutes the island on which the ladies were lying and doing yoga was becoming smaller and smaller and eventually disappeared :-):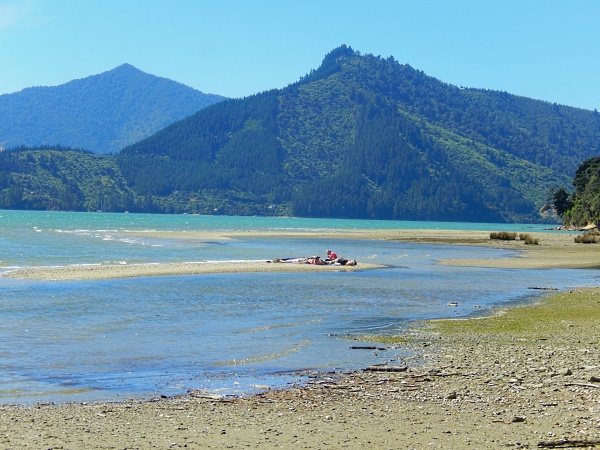 Like a Maori king – I don't know the man 🙂 :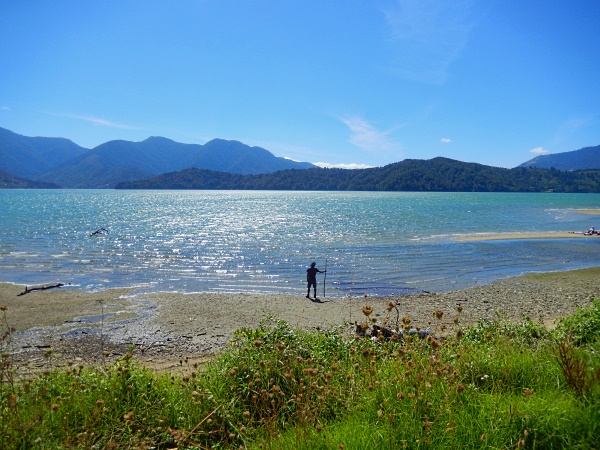 Instead of turning back, we drove further some 20 km, looking for some beauty – but all the drive was dense trees and no views…no access ᅡᅠto the beaches. When we found one side road to Misletoe beach – we drove there, nothing special, just the middle of nowhere. but the funny thing – here we see this British couple, all laughing and talking in a very pronounced Queens English – they thought that we cane to pick them up. A water-taxi dropped them there, and here they are with their luggage: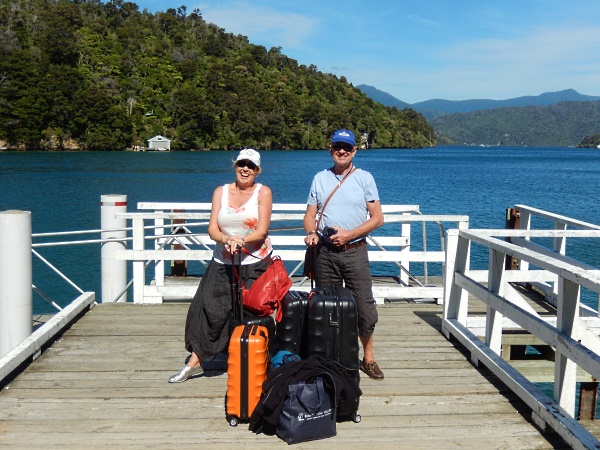 But then, of course. some person from their remote lodge came to pick them.ᅡᅠ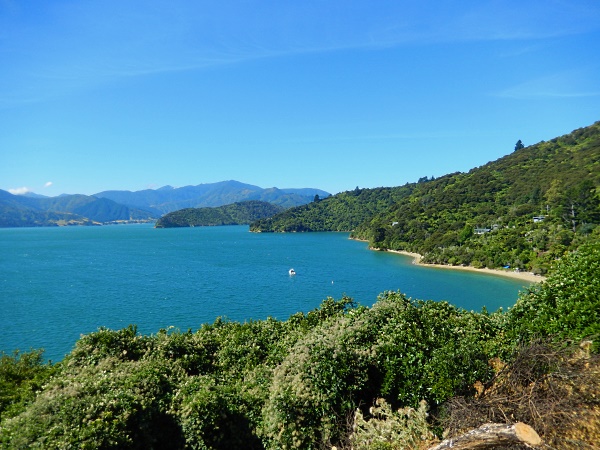 The place we slept that night was a very interesting one. The lady of the Smith's Farm Holiday Park was the first one to tell us so many advice and information, she also gave us 2 hot just baked muffins and a cottage with too many beds. All around they are having a living farm and there were pet sheep, a goat and a pig to be fed with the pills she gave us. The pig is getting too much, obviously: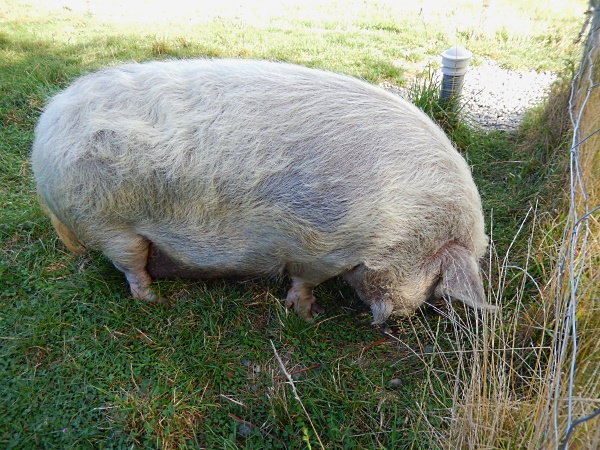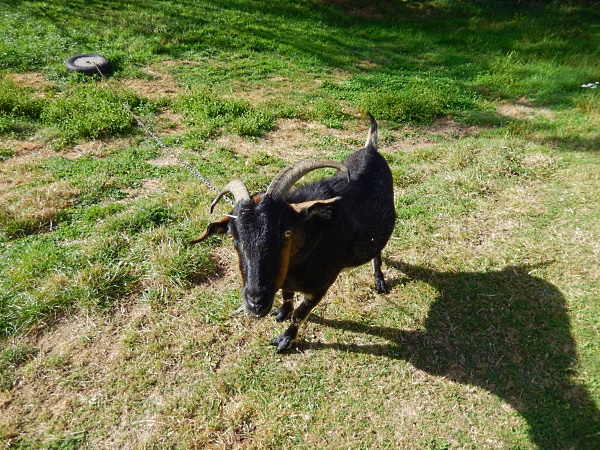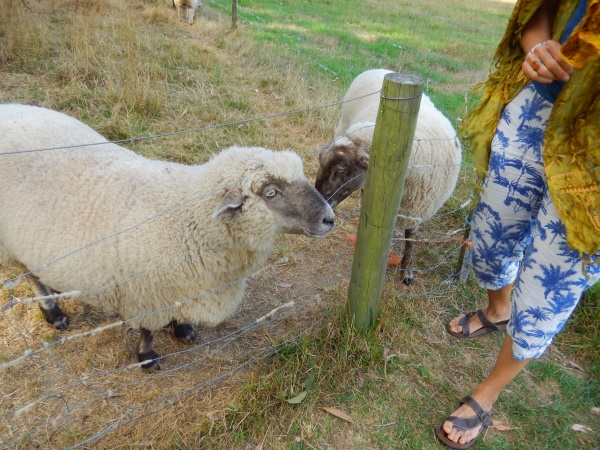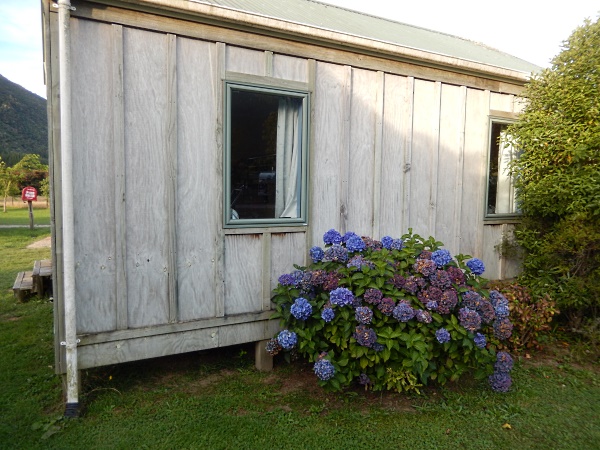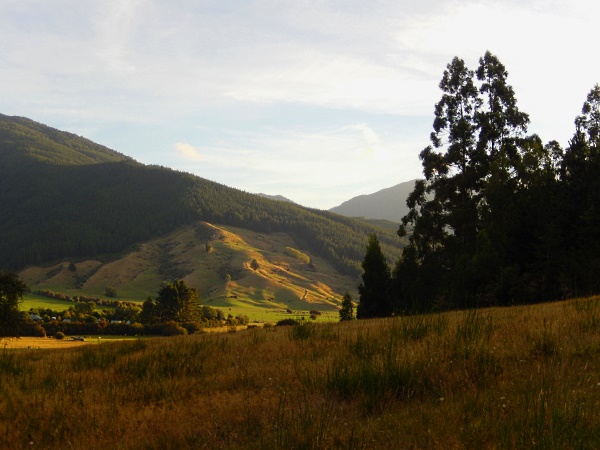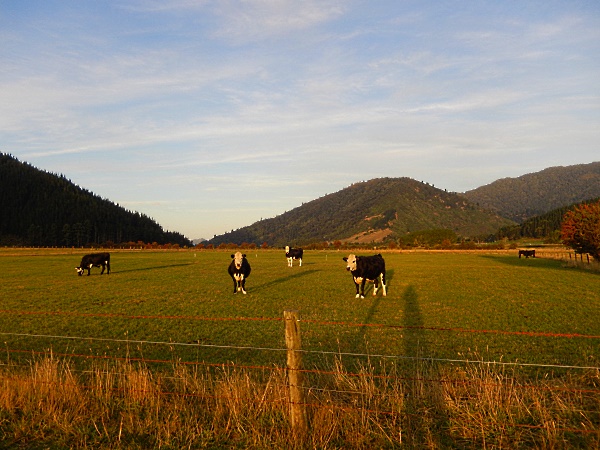 They even have a waterfall on their land, but I walked through the meadows and reached a very gloomy forest, walked for a while and then decided that I have seen too many waterfalls on this trip :-). Well, and it was getting dark. Andrei, thii time. refused to walk so far, because driving on that windy road for 50 km was somehow too much for him. For me- ᅡᅠtoo. How can people want to live there and drive that road often ᅡᅠ-well, we are all ᅡᅠdifferent :-).
The next day we still drove through winding roads of Marlborough to Picton, where ferry from the North island is coming: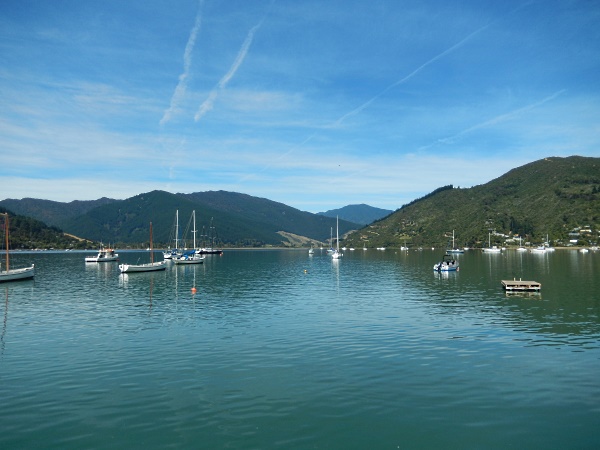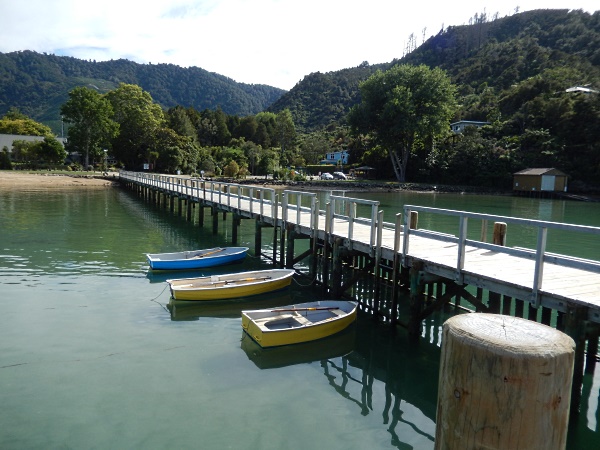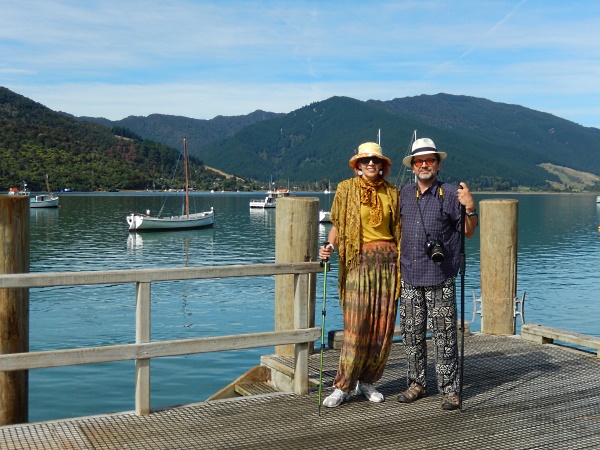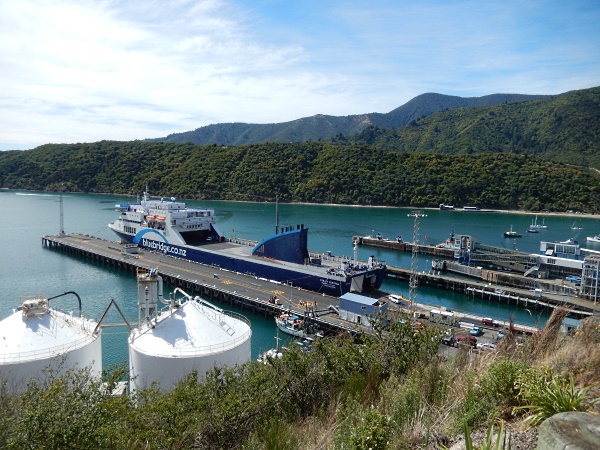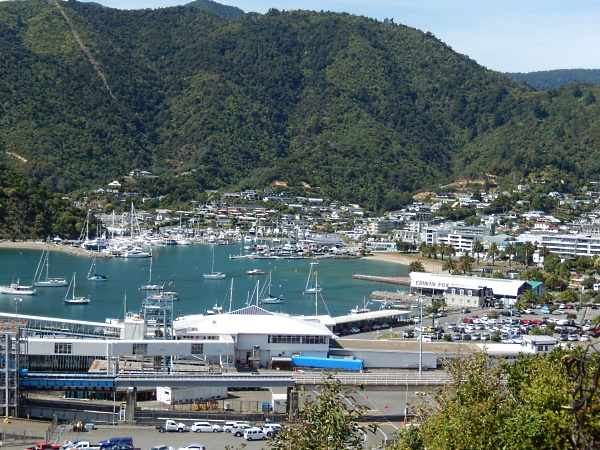 Now NZ has this flag. we read that there is a debate going on to to change the flag and have the fern leaf in it instead of British flag. As every healthy society they have differences of opinion 🙂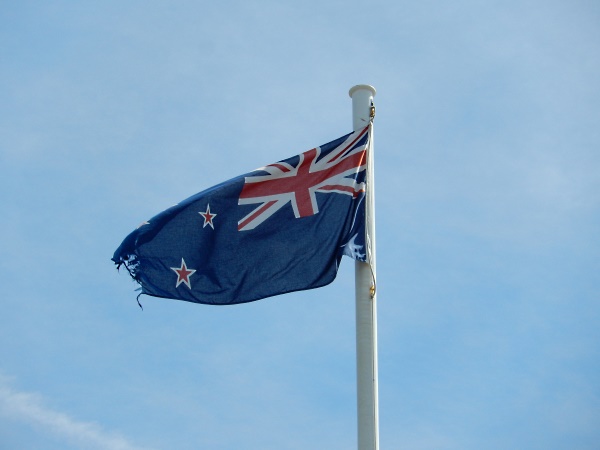 Picton seemed to be a very nice town, either. How nicely they incorporate the old Victorian building in a contemporary building: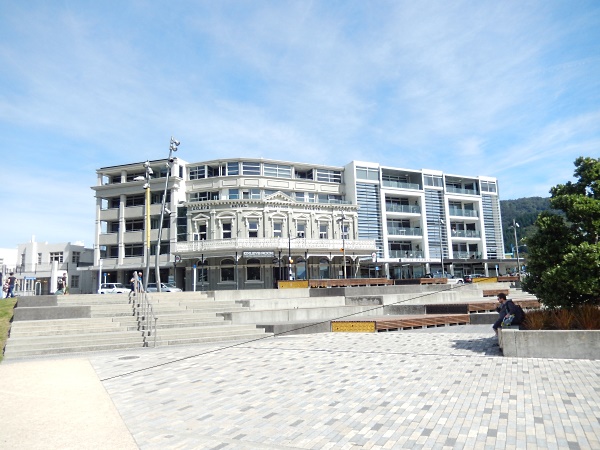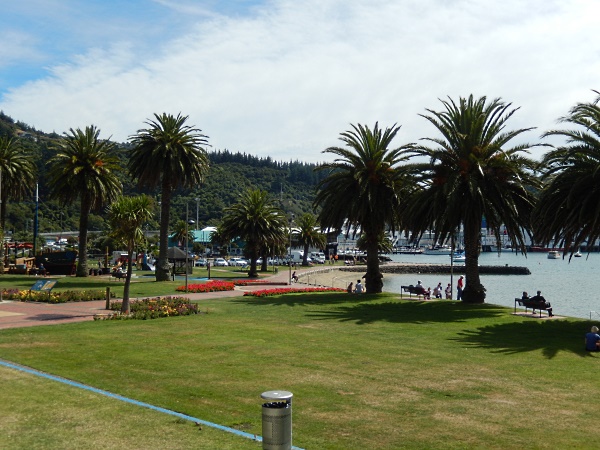 Kind of farewell to NZ: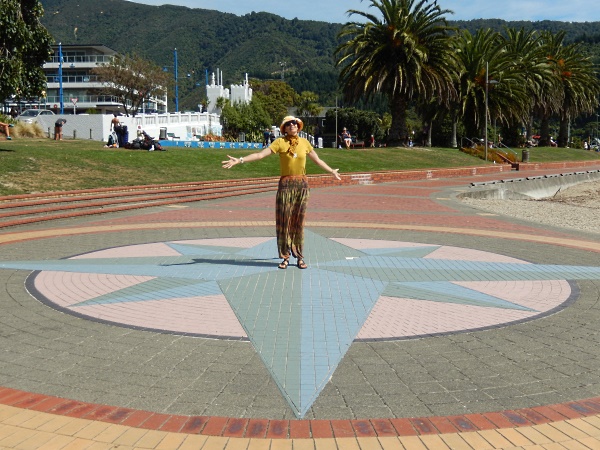 Earlier I wrote about deforestation. While we drove I talked with people and learned that on the East coast at some point the government decided to protect the exotic forests and forbid to cut trees there. But – there is a big But – they gave money to the communities to change their business and relearn from forestry to something else, like tourism. I like such government! 🙂 whereas on the North part of South Island we saw a lot of hills just cut and lumber prepared to be boarded on ships ᅡᅠ-but we also saw lots of hillsides with pines planted in rows, bigger and smaller in different areas – they are growing timber in a planned manner, also good: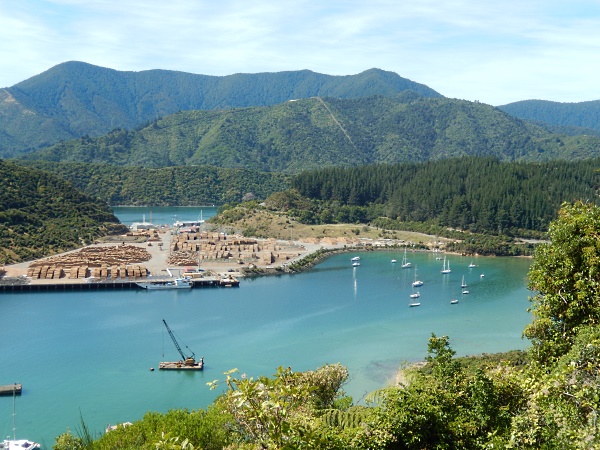 There will be more pics and to be continued about Kaikoura and its seals -our last destination. After that we are heading to ChCh and home…