So that was it – we said bye bye to Mexico City, walked once more through the central pedestrian street: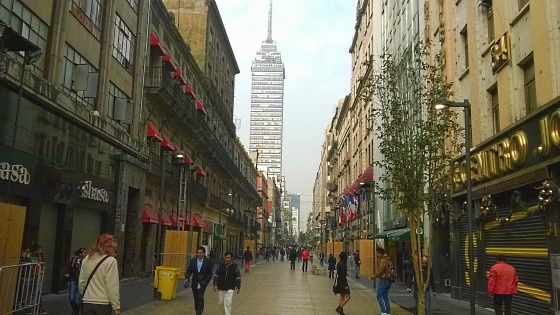 and then took a bus to the airport Terminal 1, from there to the car rental place. Note – this part maybe interesting only for those who plan to rent a car in Mexico. Renting a car there is a little strange. Andrei spent no less than 2 hours analyzing their policies and matching with our needs. He reserved a car in National company, but when we came to them – they had no small car. The price that he found in the internet was far from the price they were offering us – it went up from $30/ per day to $38. After some negotiation they found us another rental company, the European, and we agreed on a price of $36, but when things reached the contract signing part – it was the insurance that we didn't agree upon. They didn't want us to use the optional insurance that AmEx is providing free of charge if you use their card. So we ended up leaving their place and walking to Avis close by (luckily they are all close by on the same street) and getting good service and a pleasant feeling there. We got a red small Chevrolet for $31/ day, insurance included. There are several types of insurance that one has to pay. Americans who enter Mexico with their cars also have to pay certain insurance, But part of it can by applied to AmEx, which is why you want to have that card. It is useful for travelers. All in all we were happy and luckily nothing happened, at the end of the trip we returned the red cute thing in order: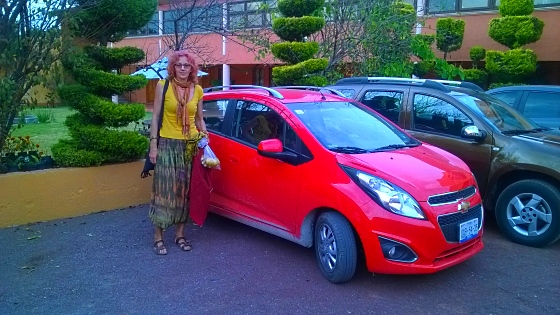 Another thought about renting a car in Mexico. We had a car while in our previous trip to Yucatan peninsular -it was very useful and I would highly recommend. This time in Colonial heartland – I highly doubt that it was a good idea. Yes, we had more comfort. Could park close to where we slept, most of the hotels and apartments had their parking places, could see a little more places. But driving in that congested area was tense. The toll highways are not bad, though with very many trucks and some traffic jams. But the GPS "lady" was not a very good one, she would tell us dubious directions, for example, she would tell us to turn left while we are on the right lane in an intersection, or send us through the middle of a town through tiny streets, versus some easier way around, etc. So we had to work every evening on the internet analyzing the roads and ways to get where we wanted. And our wants were not big – we drove bout 100 km the day of driving. I think our maximum this first day of driving was in the area of 250 km – is that a lot? We payed 253 pesos for the tolls and almost 500 pesos for gas that day. It took us 4 hours to do this driving…While driving on toll roads is pretty fast, once you get on any other road – you drive like a turtle. Yes, intersections, small streets, but the main problem – those damn "topes" or "lying policemen"-you have to stop every 50 m to go through it, all the time. You loose interest in driving somewhere further and seeing things…That part of Mexico is disgusting and I am not ashamed to use this word. Do they not have enough police, are they so disobedient to the law and don't want to follow speed restrictions, I have no clue. And still – with those "topes" on roads -there are so many cats and dogs killed on their roads…Sad.
Here is another reason not to drive a car in the mainland. Consider me a little paranoid, but when you hear locals warning you not to drive here and there because of their mafia… The legal system is broken there, the law enforcement is also not very reliable. And we are just tourists with no Spanish, driving sometimes on roads in very remote areas. While most of Mexicans told me the area we covered is the only one not dangerous in that part of the country, but I still felt unsafe each time we were in the car, only in the cities I felt safe. Though I should be fare – nothing bad happened, not even close, we never got stopped, but as this blog is about giving advices to other travelers- I feel an obligation to share my feelings. I also want to share an advice given to me by a guy from Oaxaca -when I asked if he thinks it is dangerous there, for our next trip – he said you get what you ask for. You go with your energy you emanate and if you are afraid, if you expect bad things to happen – then you will get them. If not- everything will be fine and you will see wonderful things! To tell the truth – I worked a lot on myself to try to be in good energy and invite the good one, too :-). I guess it worked.
So here it took us 2 hours to rent the car and 4 hours to drive those 250 km, which is around 180 miles – and we found ourselves up a hill after passing a small cute town streets of Bernal. It was already getting dark, so we only saw a little of a really beautiful La Pena -the third biggest monolith in the world. But we found our hotel called Casa Celia easily and here how it looks: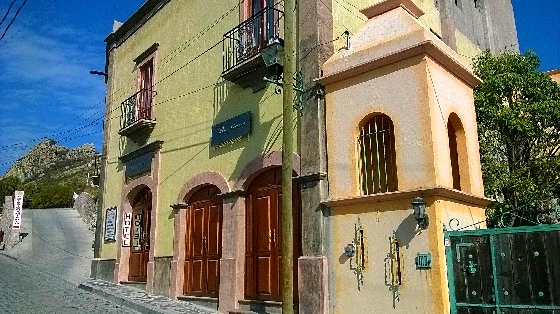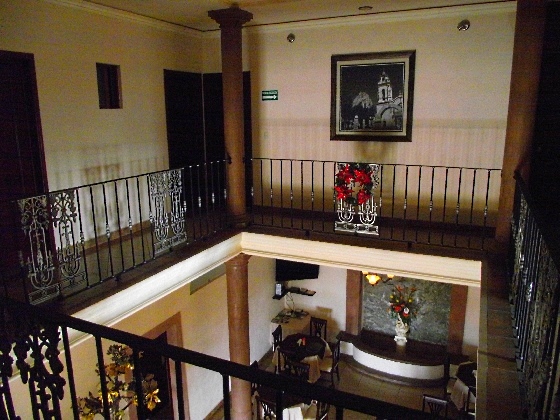 It is up the hill towards La Pena hiking trail-head. Breakfast is included and they serve good food! The owner also owns a restaurant downtown, but he keeps it open only on weekends. He showed us his restaurant, it has an extremely old and big tree and good views as well as most places in Bernal: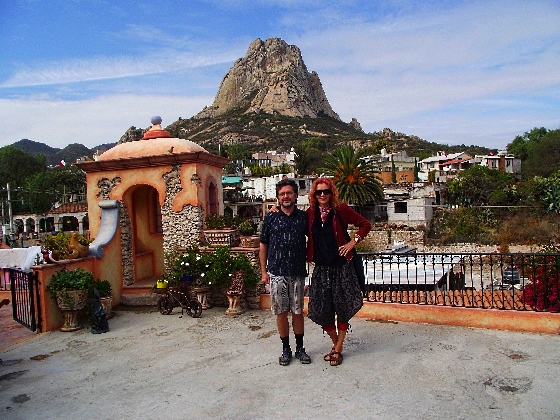 The first evening we went out to get some dinner and witnessed an impressive procession that carried me far back into F. Felini's times, when we were admiring his movies and this one was "8 and 1/2". Very very impressive – some lights shining in a dark pebbled street, and here is a pipe orchestra coming headed by that big wide and funny pipe. And then some people with church flags, some dressed in white girls carrying the statue of St Mary of Guadelupa, then some walking behind their trucks following one after another and carrying very decorated with flowers and colors a picture of Guadelupa in each. We guessed that every family from this town has their most beloved Mary in their house and tonight was the night when St. Mary got a ride and "went" to see the world and her home -the church and get some energy from the worshipers. Consequently all those paintings were carried to the church in great honor and the church filled up. We couldn't understand much. only when people were praying: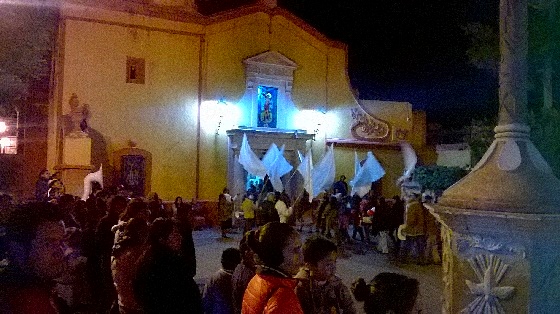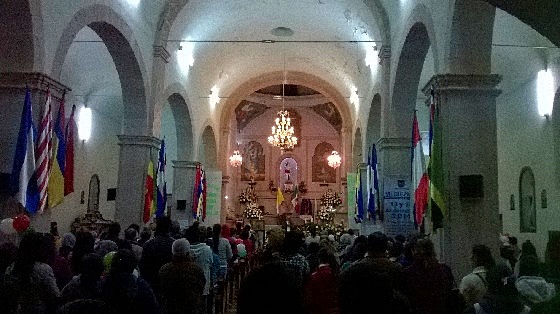 So we walked and enjoyed the town. Next day we climbed to La Pena – of course not to the top, only part of it. The top is for rope climbers. Cacti that grow at the bottom and the red flowers, similar to Calancoe – were most impressive.(And a lot of not bad properties for sale there :-):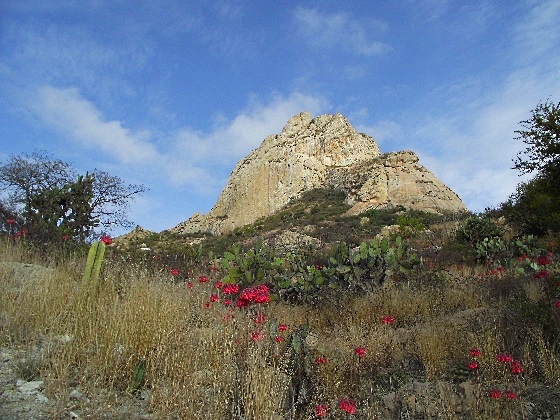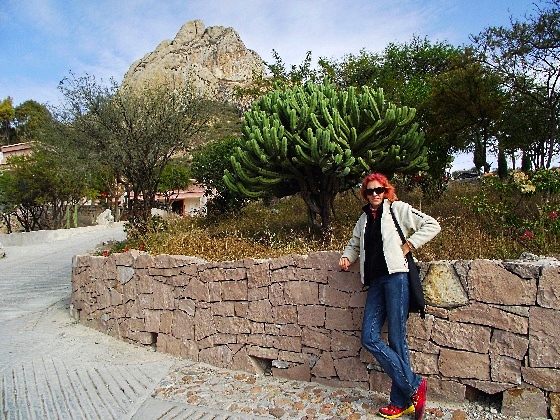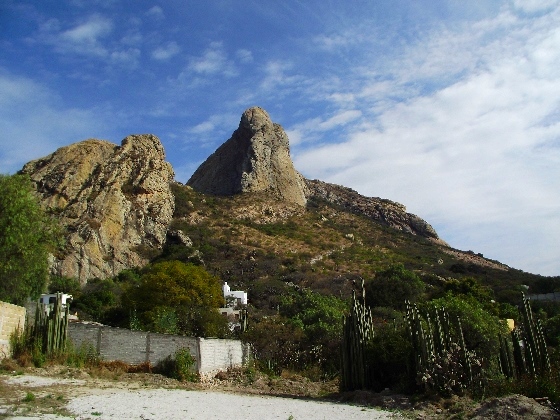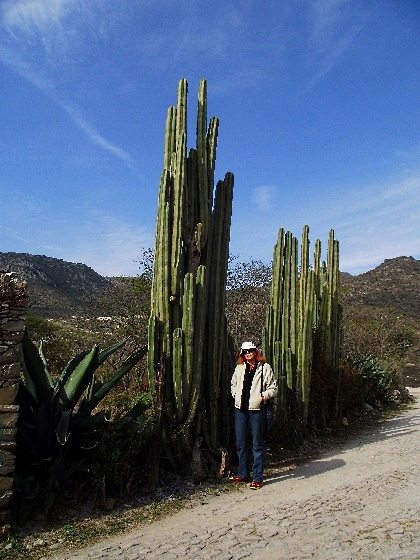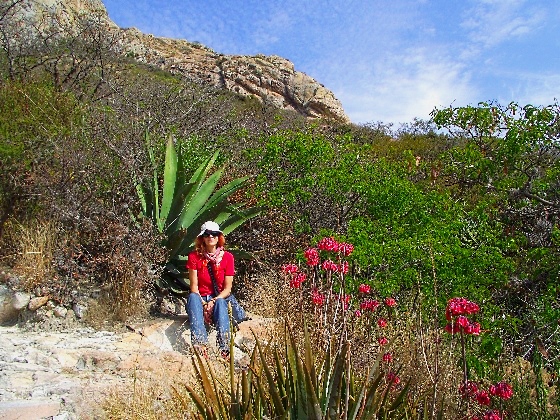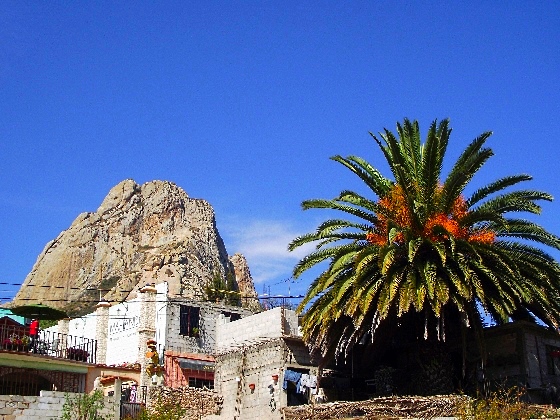 Here was an expected carved bush – like an elephant. Mexicans left an impression of very artistic people: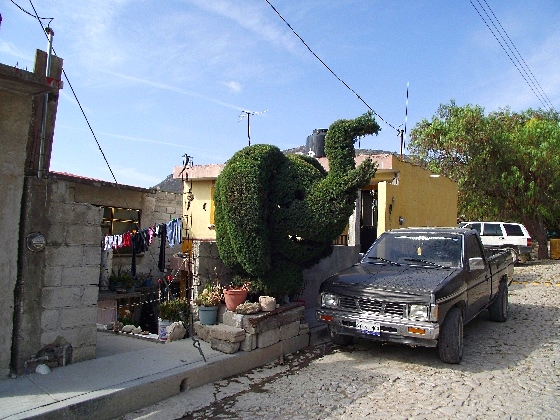 Then we spent some time in downtown and payed pretty much for parking our car in an empty yard…Got a lesson – though there were plenty of places to park in ta side street, we thought it will be less hazard for other cars to drive if we parked in what seemed a big empty yard. Nobody was there. But when we came in a couple hours -there was a man charging for parking. So it goes -they are trying of make money form every foot of land there, and maybe that is good. They also sell lots of locally mined minerals – some red opals, lots of others, already polished into different ovals. Here is how we saw Bernal in daylight: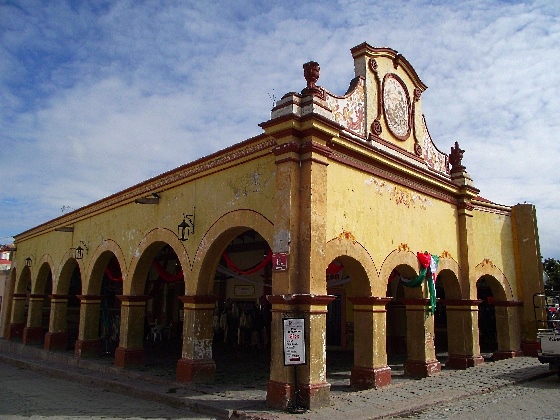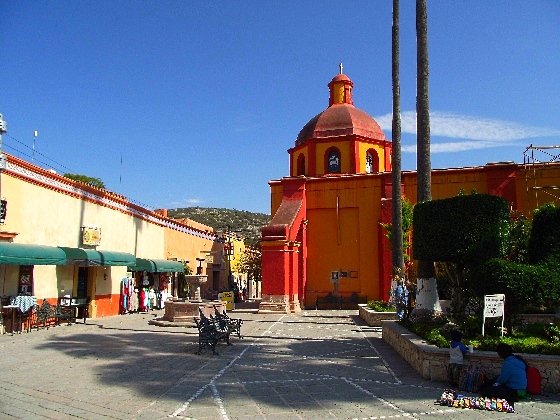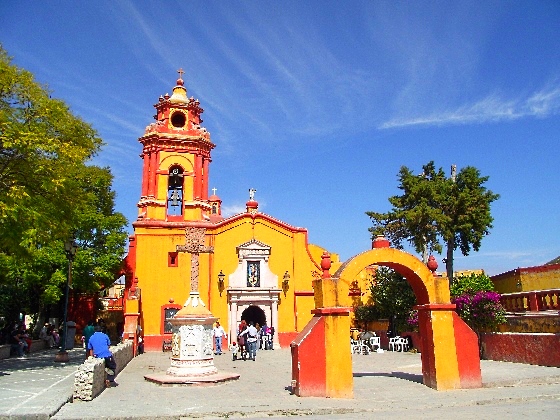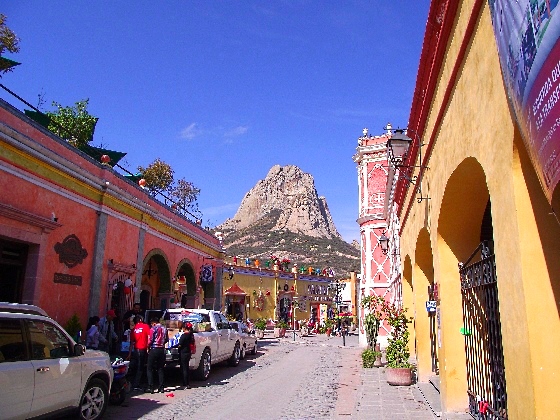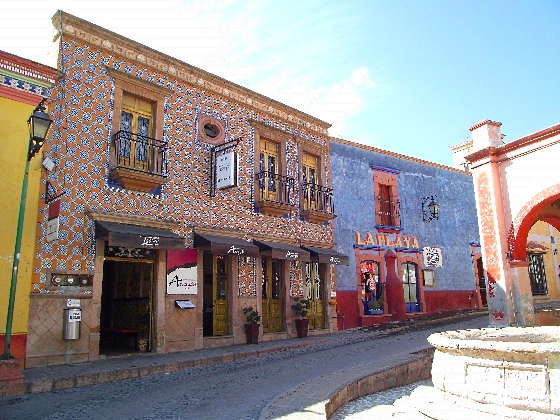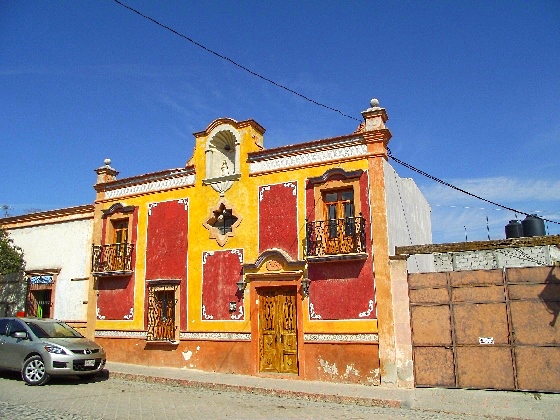 And here is the restaurant in front of this peculiar house where we ate: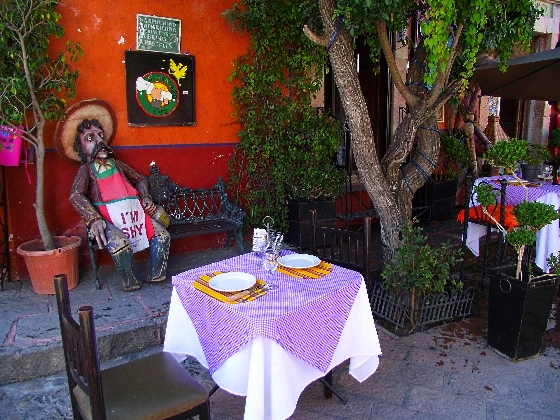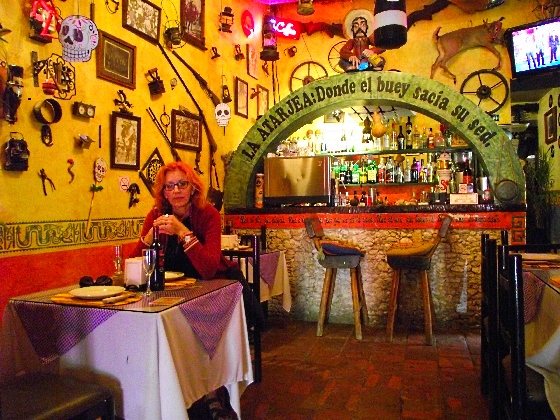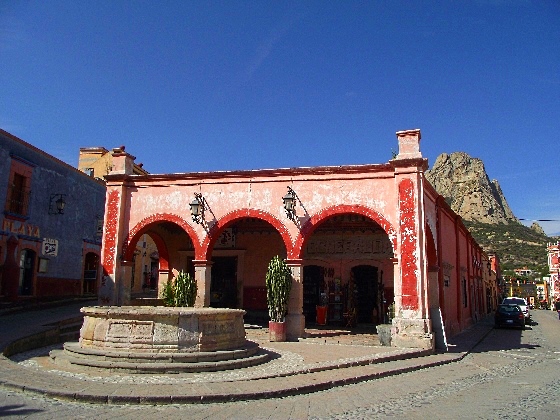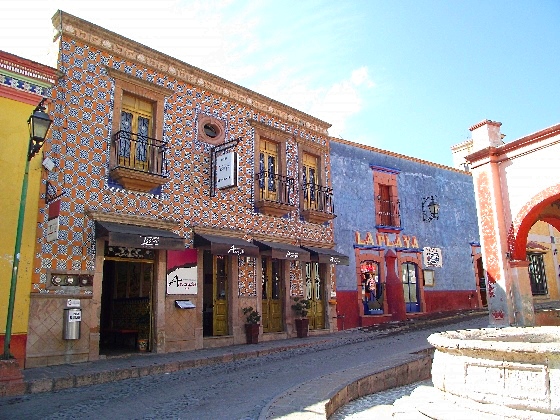 As there was still enough day-time left we drove to Tequisquapan, half an hour away. Our Mexican guest Angelica suggested to see it. And we were not disappointed. We parked by a big cemetery, then walked to downtown and were not as impressed with the main square, as the surrounding streets and especially some closed for cars district with a guard and such nice properties that we figured out if was were rich people lived. Each house was different – a bouquet of architectural decisions! Cobbled streets and squares, lots of them with a sculpture or a fountain in the middle, somehow imitating some old town plans or even built on one of them. Lots of gates like this: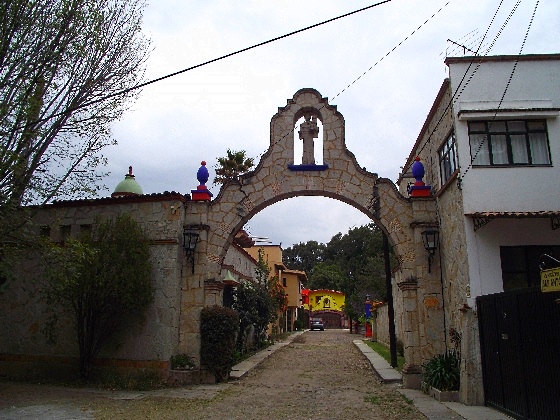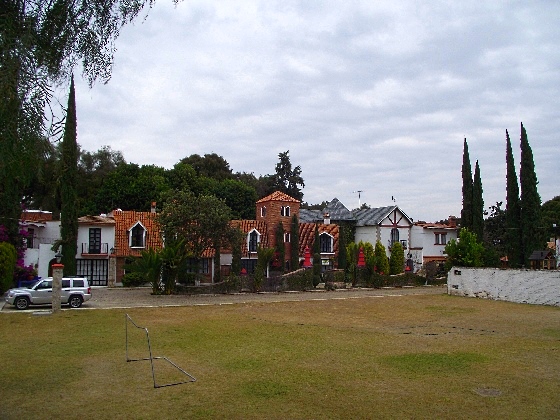 To me it seemed like a fairy tale town, with lots of mysterious and happy lives.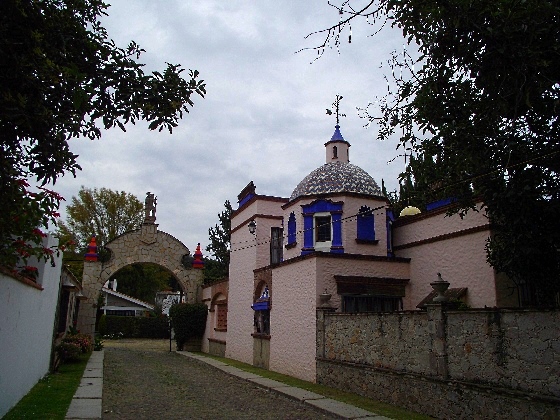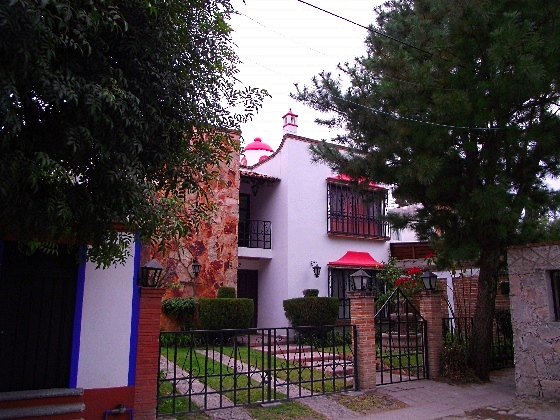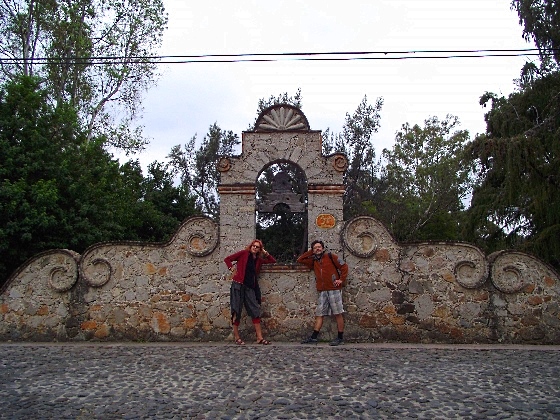 Here we are on a bridge, but the river under it is dry, it is like a river bed all grown with grasses and bushes, plenty of places for kids to play or for adults to go for nature walks.
Here is how other parts of downtown Tequisquapan look. Note that their Church looks completely different from one side versus the other: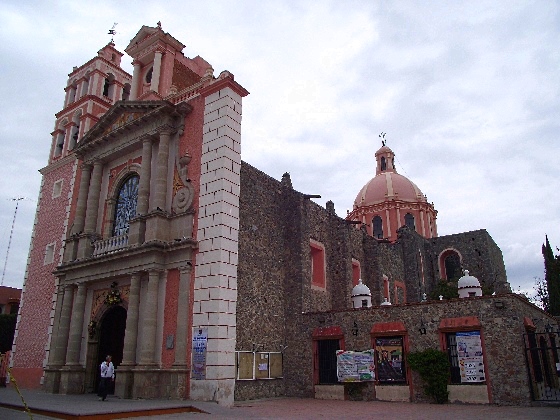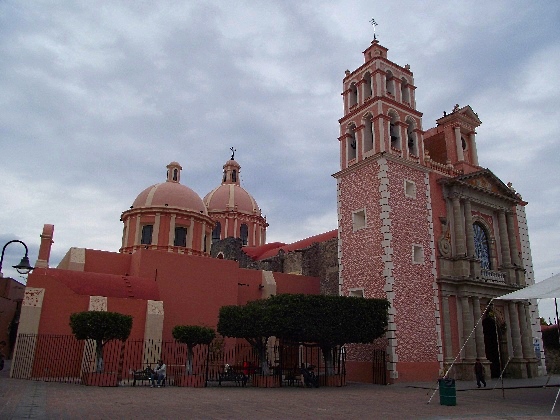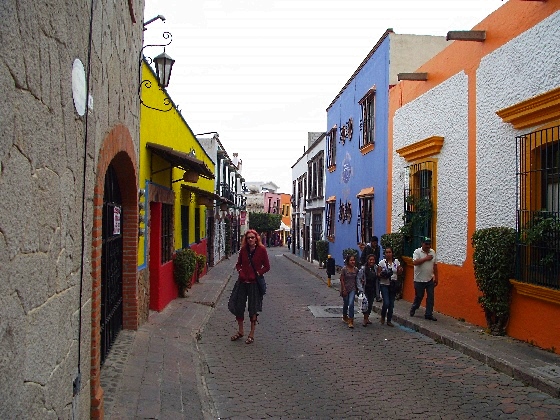 Worth mentioning, that they sell farm made cheese and home made breads, in something similar to our health food stores.One more piece of their creativity: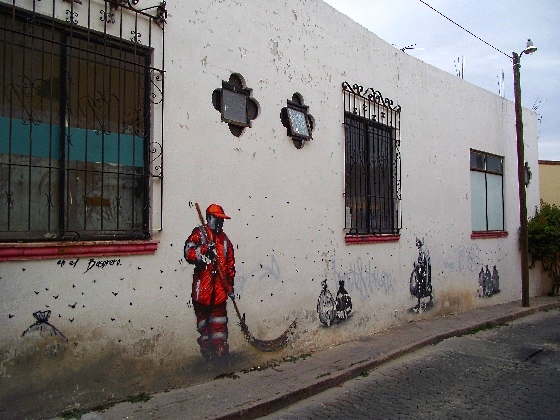 That evening when we came home to our hotel owner was sitting in the lobby and singing such good nostalgic songs that they reminded me of either Georgian songs or Lithuanian sung by Bards. A nice man the owner is, except that he doesn't speak a word in English, so come to stay in Casa Celia with a vocabulary. Just a side thought: it is not so hard to be nice in Mexico's hospitality industry – there are so many service people that they can hire and who do such a good job – that it seems one can eat from their floors :-).
After his singing we were heading out again and luckily he showed us the direction – up the hill there was a pool with fountains – and at 7 pm the show started- it was an amazing color-music-elaborately dancing fountain show. So impressive that my jaw went down :-). And I have seen many of them in Las Vegas by Bellagio – this one was better. It was 30 min non stop, with bright matching changing colors, very good music pieces, the fountains flowing, but the best part – we could stand immediately by the fountains. The crowd was very slim and we could feel the water and see the show "just for you". At that time they even lighted La Pena -I guess there have to be big lights to light a mountain…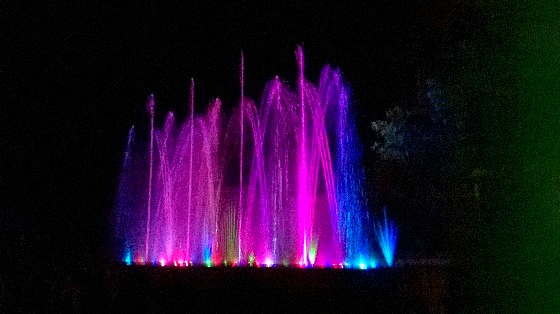 Next day we headed to Guanajuata.