Now I am in love with Mexico. Didn't expect to get such a good feel from the biggest city in world, as some say…We flew there on December 3rd and planned to stay for 5 days, but extended to 7 and still it was not enough. And I am not a fan of big cities. But Mexico city has not only its bigness, noise, but also some quiet islands that look like rather rich and cozy communities with all this colorful colonial architecture, houses-museums, small parks and churches and street performers. And the museums… an endless number, one better that the other. All the churches are free to enter (unlike in Italy), they are very fancy inside, everywhere in those spaces it is so clean that it makes you feel clean! All in all Mexico city can be a destination on its own. There is a street lined by skyscrapers, there are nice parks with fountains and happy people resting on benches, there are concert halls, a variety of nice restaurants and best of all – a very good climate! We were in December and it was a perfect temperature for sightseeing, no rain whatsoever. They say that it never gets very hot and very cold – based on the flora we saw there they definitely have no frosts. Everything was good except for one thing- we don't speak Spanish…And you need at least to understand some. We met several Mexicans, who luckily have spent a year or two illegally in the US and learned some English, good for us :-). But the majority doesn't speak any English. In museums you seldom see information written in English, so I used a Travel guide for Mexico and the internet to find out about what we saw in the museums.
So here it is -a flight form Las Vegas is 3.5 hours only, on Mexican Airlines. Then you buy a taxi ticket in one of many kiosks in the airport – you show the address and pay based on the distance (in our case it was 224 pesos). Then you stand in a line for the taxi company you have the ticket (we noticed there are several companies) – Mexicans are so good in standing in lines, so patient and orderly. Then your taxi comes and takes you to the very door of your destination. This time it was a room on top of a cafe – Tea House -right by the metro station Villa Cortez. The owner is Chez and she speaks English. We found the place through Air B&B and were happy about it. All the time you come from the city – there are workers in the cafeteria and they greet you, the feeling was you came home. All in all the location is fantastic and there was a very good pastes shop across the square, also- fruit sellers, also – some other cafe if that was not enough. On Thursdays they have dancers dancing Aztec dances in the square and you hear the drums all evening long but that is not disturbing. Here is the house, our room was on the right with a balcony: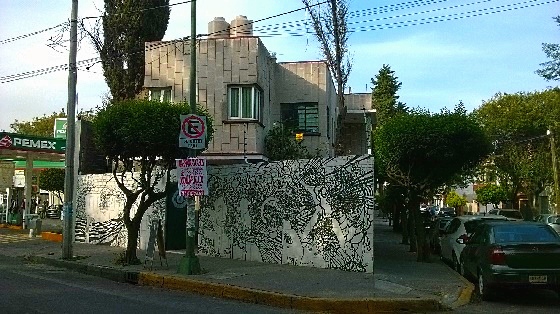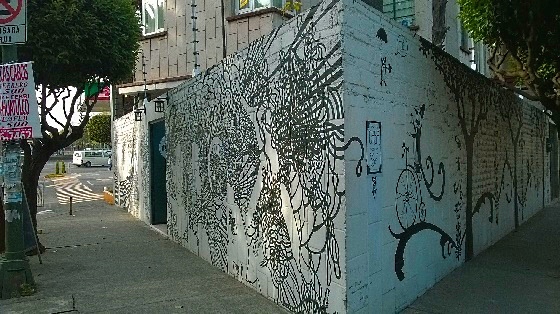 The garden wall gad some distinct drawings, looked very modern and the garden had enough greenery and flowers. Here is the view from our window: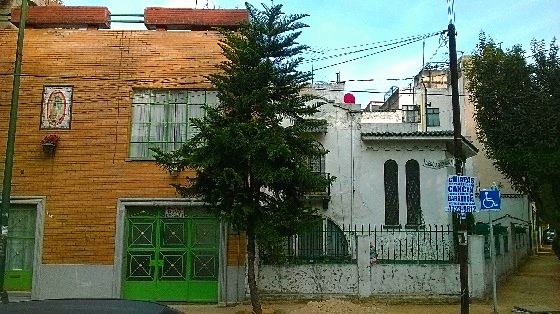 It would be a very big blog if described all the museums we visited during those 7 days. But I'll try to mention the ones that impressed us most. And also to give as much useful travel information. The main point of traveling in Mexico city is the convenience of the metro! I remember getting much more tired in Barcelona, versus here- the stations are in good places, approximately 1 km from each other and a ride costs 5 pesos (we got 13.4 pesos per 1 $ at the time), not bad. The place we stayed was about 6 metro stations south from Downtown and its main square Zocalo, on the the same metro line. They were building some constructions I guess for Christmas in Zocalo, so we don't even have a picture of the whole square, it is so big. We even didn't take a picture of the Cathedral, for there was no place to stand and get it all. So here is at least the facade of another church by the Cathedral, and then the interior of the Cathedral: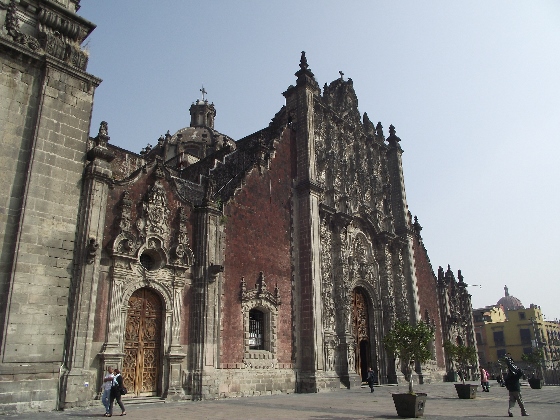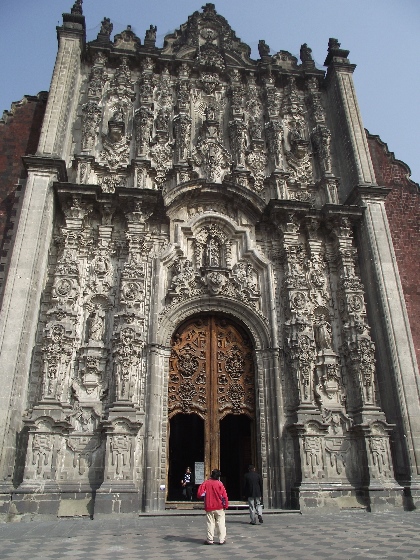 How can one not like it!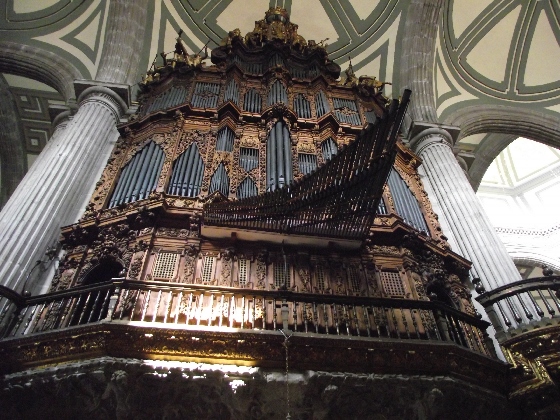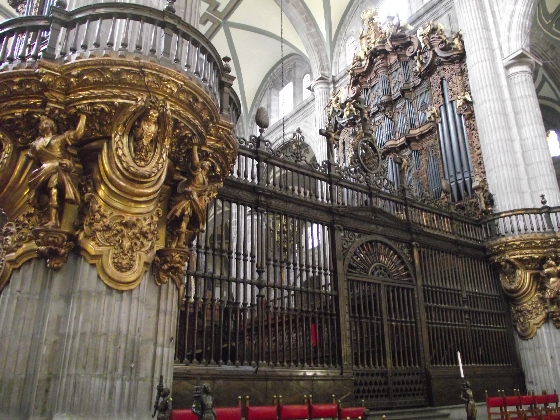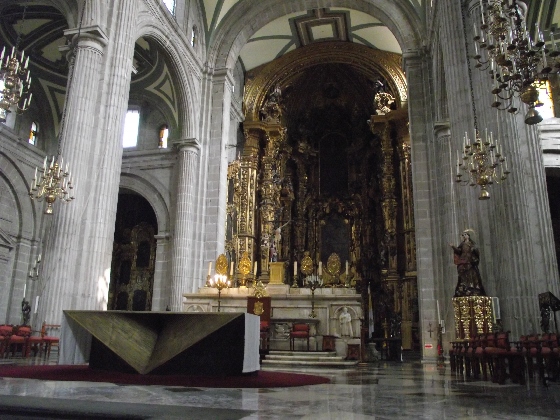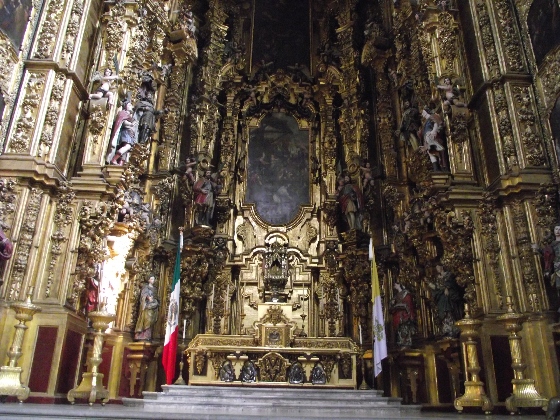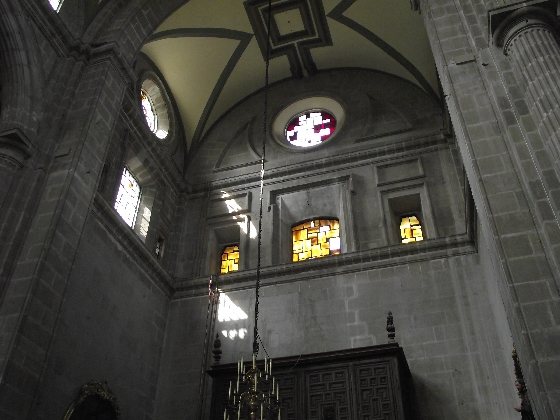 And from there we started our walks. The churches and pedestrian streets with some old mansions turned into museums, with their different inner gardens, very cleanly swept so that not a single leaf is lying where it should not, like little oasis with orange groves, you go right and left, never boring, always nice treats for the eyes. The only thing that I think is strange for us, living in mountainous area, is the flatness of the city – you never see more than the street you are at. It is built in place of a lake, so no wonder. Also -in most churches a strange feeling would make you feel you are loosing your balance, you feel like thrown to one side – they are leaning…Some do that because of the soft clay under them, the "lake" effect and some, as they mention in books -because of that big 1995 earthquake. Anyway -here is a Leonore Carrington's sculpture -in one of the mansions-museums we entered on Moneda street: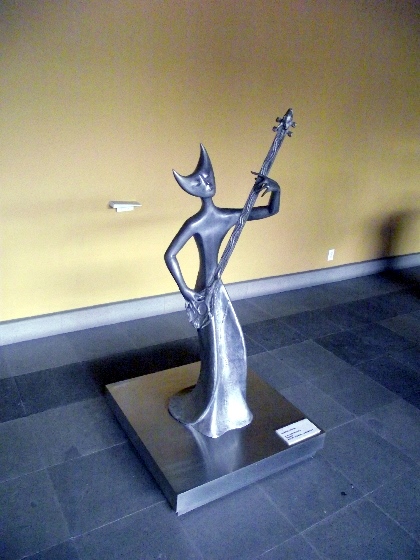 Jose Luis Cuevas museum and his sculpture -he was a very good artist, lots of good paintings there: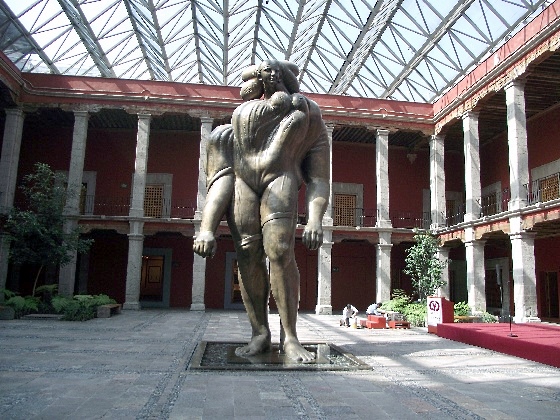 Yes, that is the name of the street. And this is what they like to have here and there on their streets: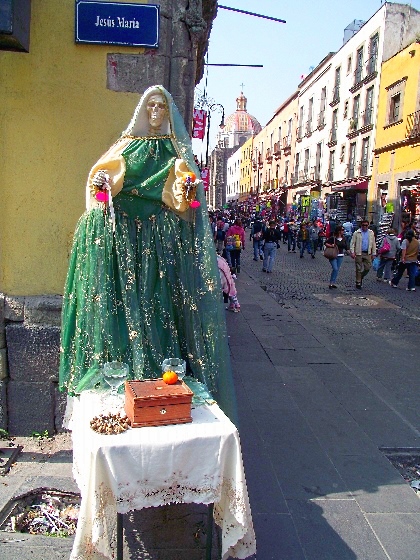 I guess they are called La Katrinas. We had our Sopa de verdura – vegetable soup overlooking this church in the same Moneda street: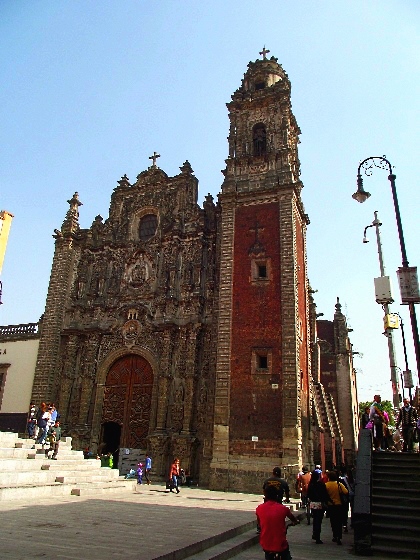 Here is St.Domingo church and square. They have trees growing from their roofs, sad…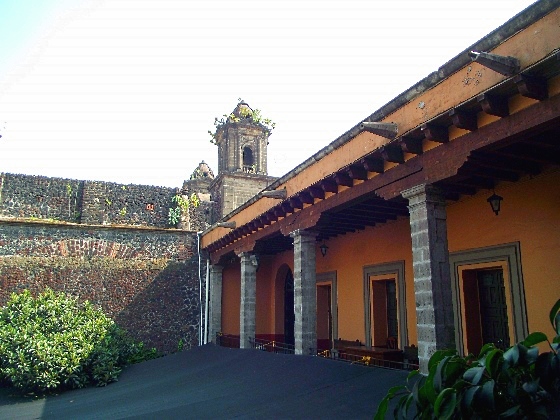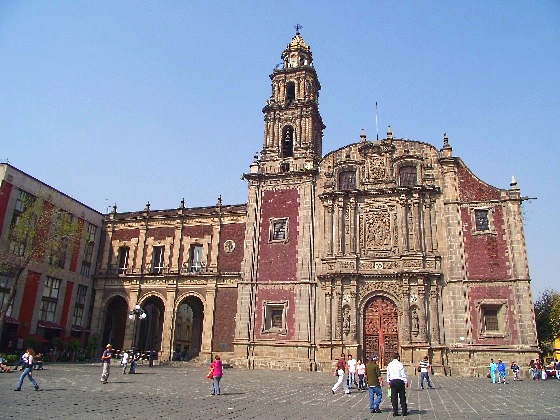 Here we are enjoying the big statue-chair by the bank in this square – never change money there! they give the lowest rate possible. And pay attention to the feet of those beasts: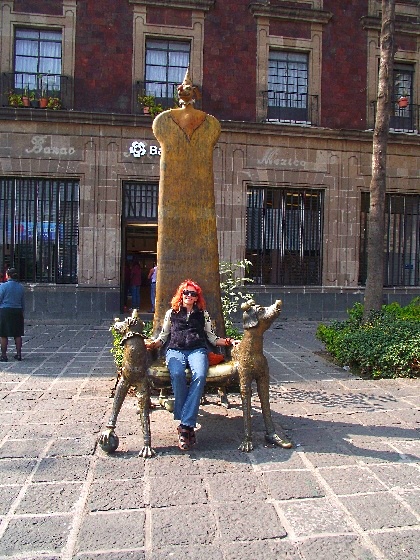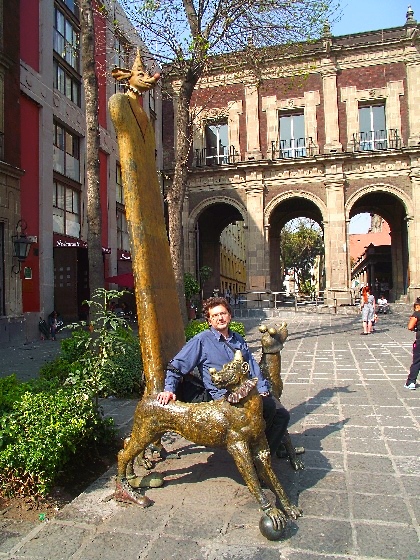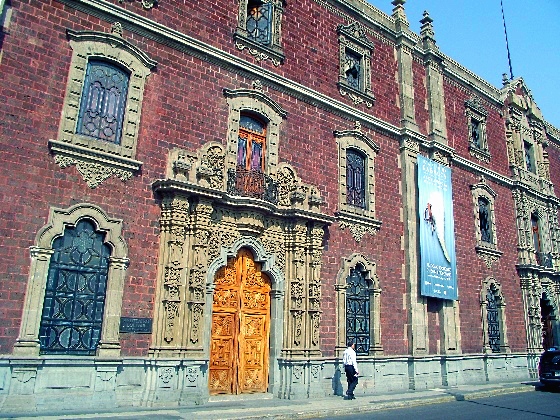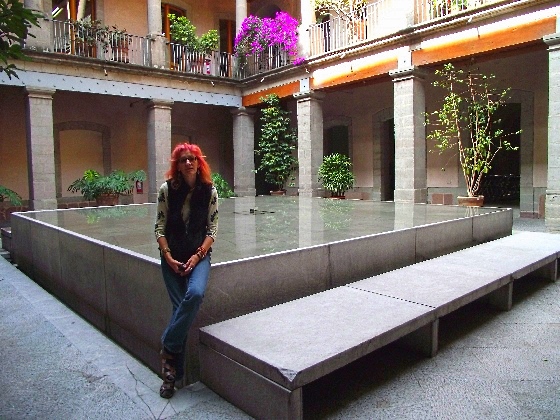 Here is the old central post office: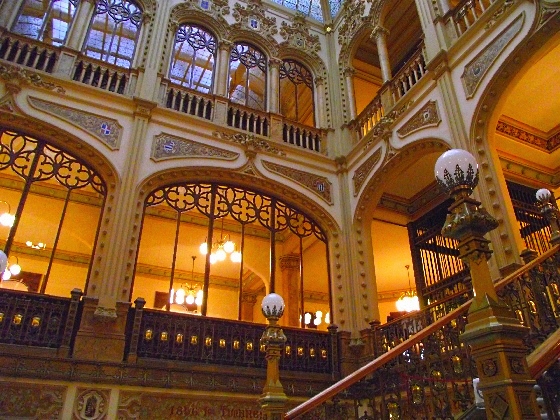 And here you can see the Cathedral dome and the old Aztec city ruins right in the very center of Mexico city – the old city was on an island in a lake. We ran out of time and didn't enter the ruin museum…