This year we spent our winter vacation in the Yucatan peninsula, mostly in the northern part of it. We again betrayed our beloved Thailand…But the flight to Cancun is so much shorter and cheaper, that it made our choice. The trip started at night of the 21 st of January. We left our home in Rockville after 11 pm, did some mosquito net and repellent shopping on the way and reached Las Vegas pretty late in the night. Visited Bellagio, which had the Chinese New Year theme at its greenhouse Atrium. Just plain beautiful, done with taste, dragons and kids made of flowers…Wanted to take a short nap while in the car in the parking lot there, but the security came up and told us to leave…so we did, to the free long term parking place in South Terminal, it was cold, brrrr. but we took off the jackets and ran to the bus which leaves from there to the airport every 40-50 min. if at night, and every 15 min during the day. Also, Andrei registered our car at the office there, so we would be calm about it. Then the airport, the check-ins etc. and we still had to wait for more than an hour till our flight to Phoenix, then to Cancun. In Phoenix they have a strange order of flights… 4 flights were scheduled exactly at the same time from the same cul-de-sac in the terminal, so the crowd waiting for those flights was dense, we could hardly move to our gate through all those packages and people, and could only stand while waiting, not sit. Not much fun. Then, of course, with us inside all those planes were lined up by the air strip for almost an hour, until we took off. Yellow desert underneath was not very spectacular. Then Yucatan showed up as a dense jungle with very few roads, no rivers, nothing else. Landed to very warm and humid air. Took some money from ATM, a mistake, for they charge a steep fee (27 pesos), so it is better to take more at once, or a maximum and not worry about it till closer to an end of the travel. They call their pesos "dollars" in ATM machines, so when they ask how much do you want, have in mind they ask about how much pesos, not dollars you want to change. Bought a ticket to ADO bus to Puerto Morelos right close from the exit, 20 min in a comfortable bus and we were there, in a shabby little town…called Colonia of Puerto Morelos. Or Pueblo. There we found our reserved hotel Kin Sol quite easy: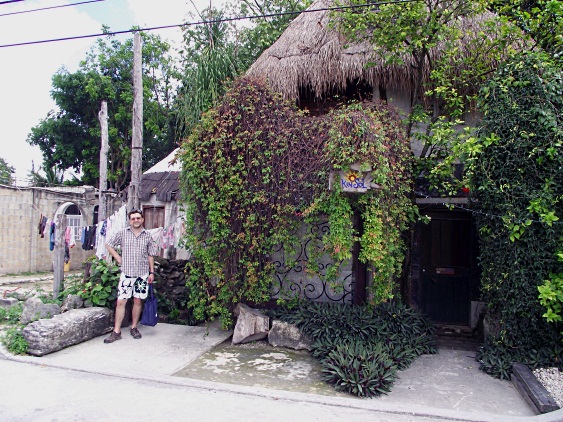 but the area in which this German woman and a French man built their hotel was not the best, though safe… Poverty screaming with past ambitions…super wide avenues, with a green lane dividing both sides: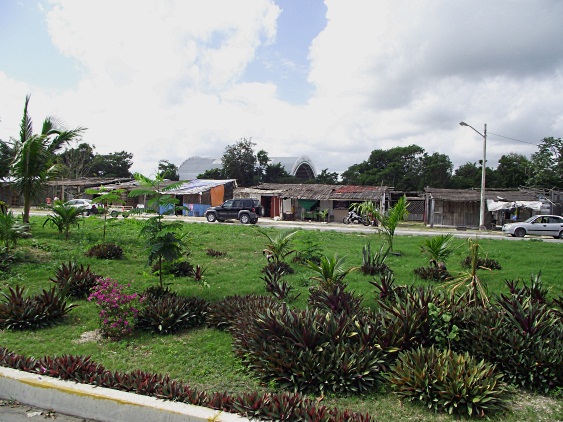 The plants are only in front of the hotel, I guess the owners got them planted, therefore this looks better, but still…we were sent to eat breakfast in that "Mary's Cochina Economica" as seen in front…in a shack, literally. the owner of the hotel said Mary is very clean, thanks God! because while wondering and looking for dinner we were shocked about their way of cooking and taking money and food with the same hands and cutting a tomato on the same uncleaned board where they just cut raw meat and raw fish…So during the first days in Mexico we needed some inside adjustments to make. But still, I would never recommend to anyone to eat at that Mary's place, to get two plain fried eggs without nothing, in Mexico, which is known for its tasty foods, spices, salsas…Unless you know Spanish and can explain better what you want, but still, the shabbiness of the place is very hard to deal with.
Our neighboring house by hotel was like this: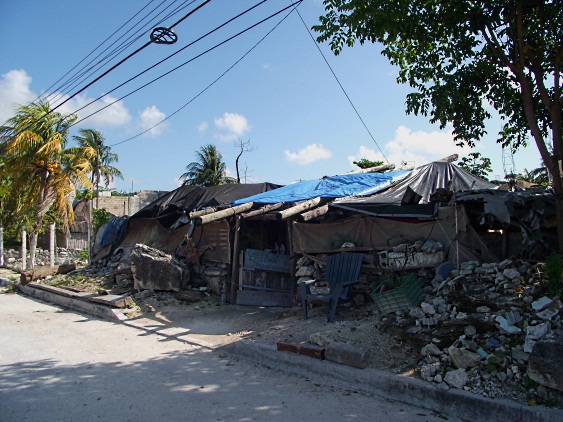 But the kids going from school were all dressed in sparkling white socks and bigger trees everywhere around were painted white, they just have another way of understanding cleanliness and tidiness, every culture has its secrets: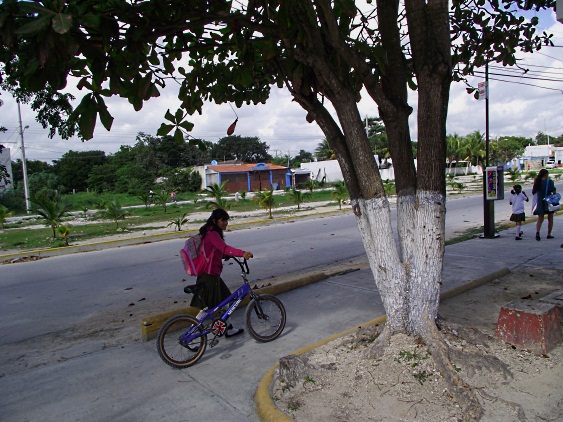 Based on the freshly and brightly painted houses I realized that maybe the most favorite occupation for Mexicans there is painting walls, frames, trees and stones. Not bad.
As I said, we needed to adjust. My mood at the beginning was foul: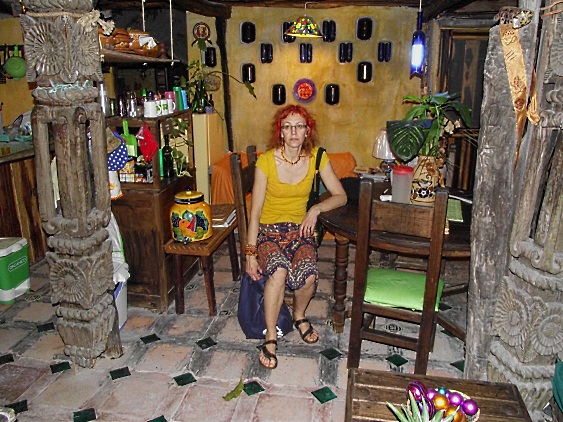 No wonder I didn't take pictures of the inside gardens and the insides of the rooms at the hotel. The rooms were kind of tree houses, I would call them, with narrow stairs. but very beautiful tile designs in the bathrooms and pretty beautiful rough interiors.
So the Pueblo was very dilapidated and trashed, but 5 km from there directly towards the sea (don't believe that it takes only 20 min to walk to the sea, who can make 5 km in 20 min?) the resort
part of the town was nice enough: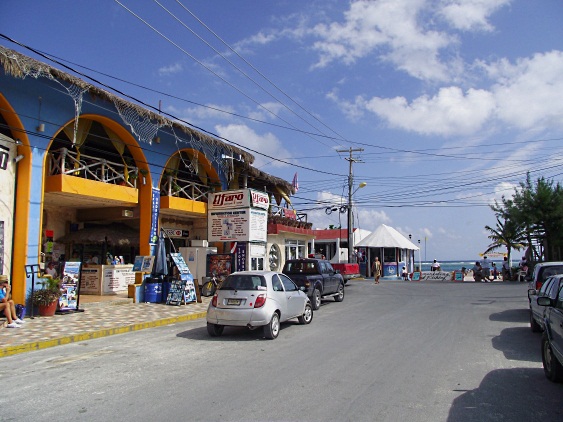 But the wind was strong, to my amazement – the Caribbean Sea was rough and we didn't swim the first evening. This is their landmark – the leaning tower: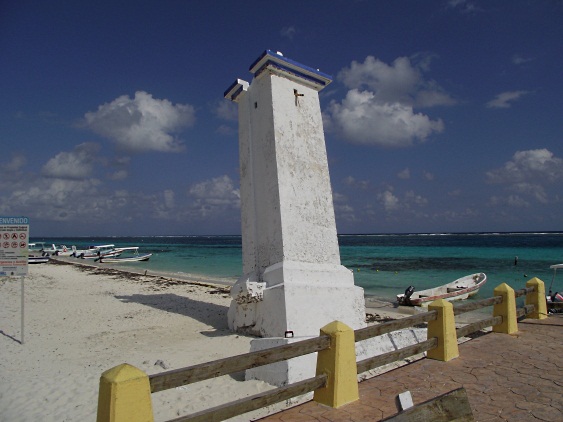 So we stayed there for 2 nights, spent some time on the beach, I spent walking and looking at the villas: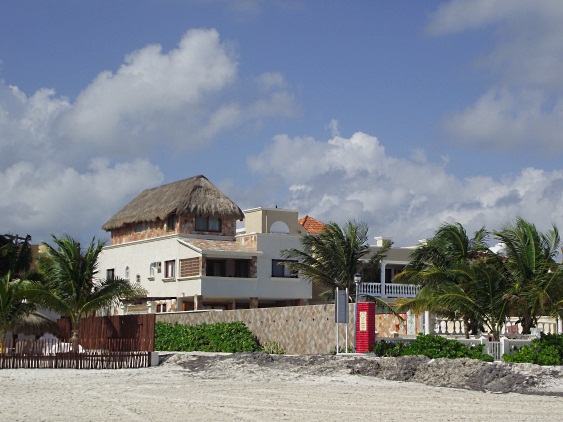 and fishing or snorkeling boats: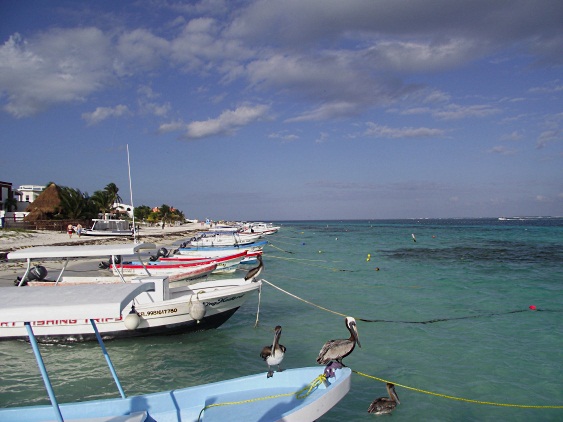 Andrei swam a little and then read. I couldn't force myself to get into the water, though the water itself was warm and blue, but the wind was very unpleasant. There were no big waves, they broke far away where the coral reef was making a barrier. They write in books that it is a good place for snorkeling, but in such rough waters, I would not enjoy that. But I guess the winds calm down at some point maybe in spring, when it gets really hot, so then maybe it is a good place for snorkeling. But the other problem there is a number of boats coming in and leaving, so it is dangerous to snorkel by yourself, you have to buy a trip where the boatman gives you some floating devices that warn boats about your whereabouts.
The church right by the beach is airy and fresh, supported by a big number of Canadians who escape their cold winters and spend them here: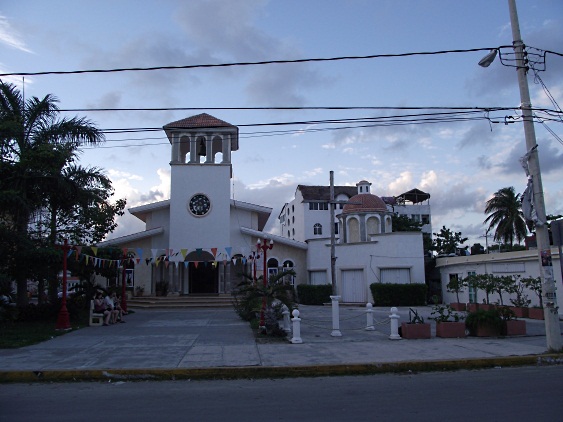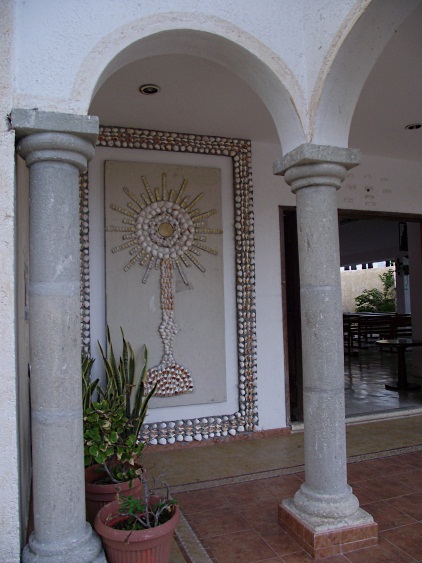 I liked that they made decorations from shells. A real seashore church!
The town of Puerto Morelos is clean and nice, has a lot of restaurants and fancy villas, hotels, too. I was amazed by the imagination of the villa builders. There was one very much like a Gaudi building, again, didn't take picture of it…Lots of rounded corners, lots of colorful tiles. Some restaurants even had vegetarian choices, not so easy to find in other places. I mean they had vegetable foods! There were taxis – 20 pesos to Pueblo, or Collectivo buses – 5 pesos to Pueblo. And it cost 64 pesos from the airport to Pueblo on ADO bus/ there are different kinds of buses running in Mexico and some are cheaper, some more expensive. I guess ADO is on the expensive side. It was very comfortable with AC and all. So the next morning we again took the bus and went back to the airport. Their we caught an agent from our car rental place – American-Economy, and took their shuttle to the office. There we got a car and left for adventures!