Last Tuesday before the big storm (04/20) we headed to the Valley of Fire – Nevada's oldest state park, dedicated in 1935. But the sandstone formations from sea dunes over there formed during the age of dinosaurs, some 150 million years ago… There is a complex uplifting, faulting of the region with extensive erosions that made the place special and worth of not one visit: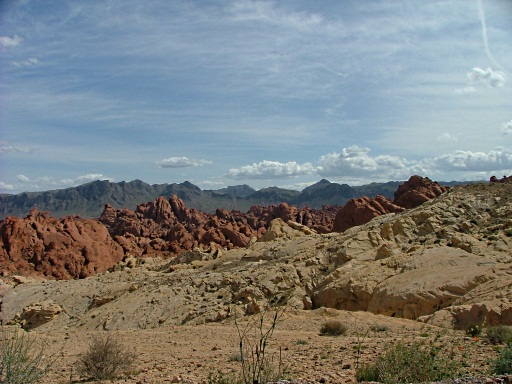 Several kinds of sand stone – maybe I should say several colors of sand stone there competed well with the spring flowers: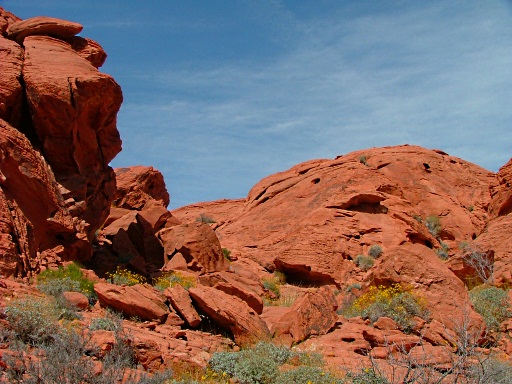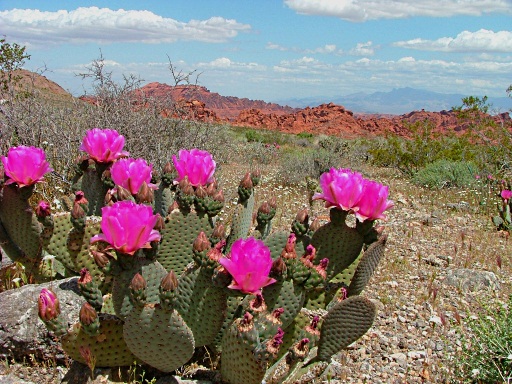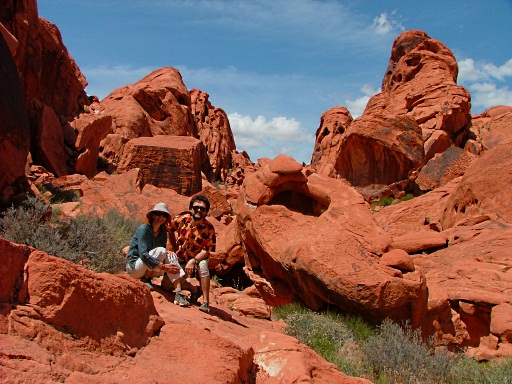 The first canyon we went in was called Mouse's Tank – it was very red, too red for my eyes :-). Thanks God there were some yellow flowers here and there and some prehistoric petroglyphs: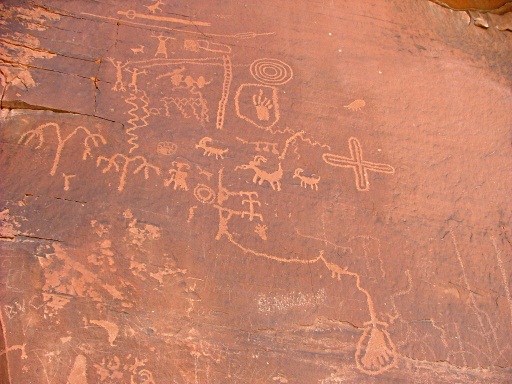 In fact, there was a lot of them along the canyon walls, which witnesses the times when the Basket Maker People and later the Anasazi Pueblo farmers visited the Valley from 300 B.C. to 1150 A.D. There is little probability they could live there because of the scarcity of water. The Mouse's Tank was the only little basin of naturally collecting water there: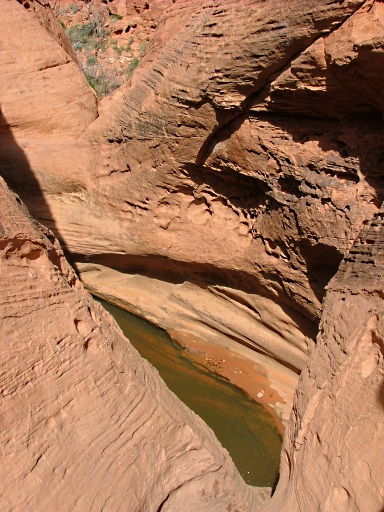 It was nice to see water after going in that very sandy very windy trail.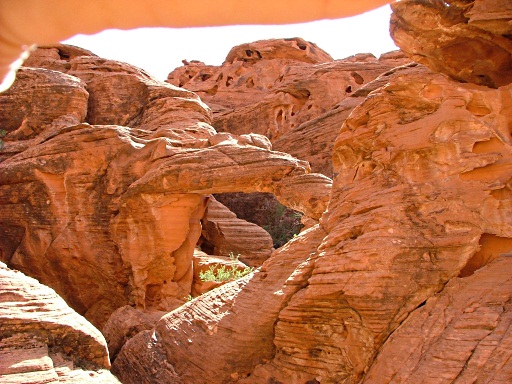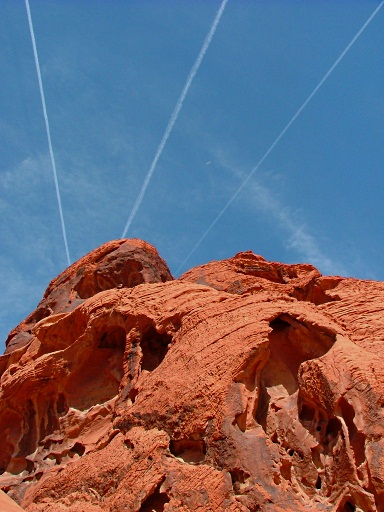 Evidently lots of airplanes fly over the valley of Fire – it is only 40 mi from Las Vegas.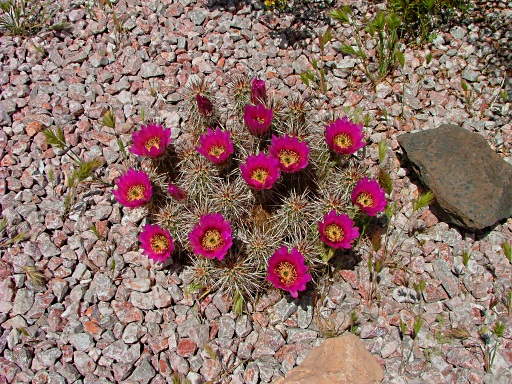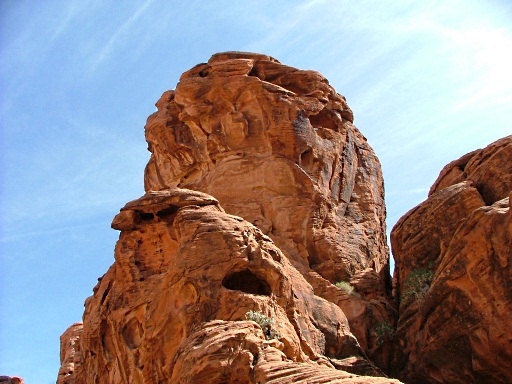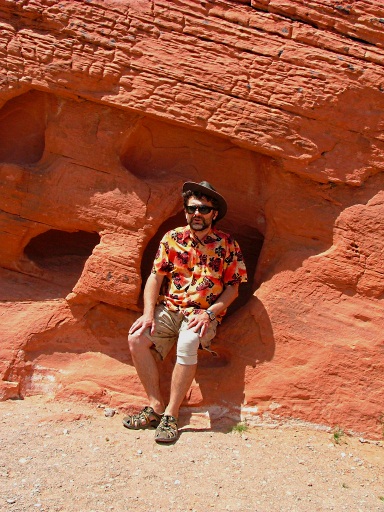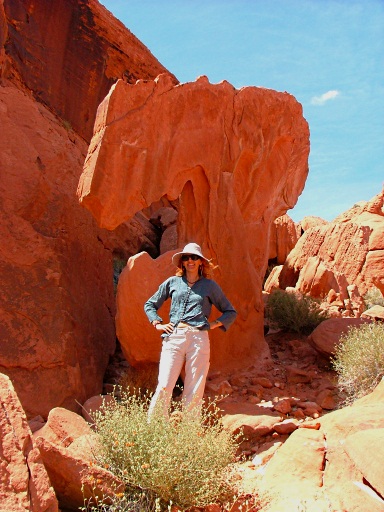 The peculiar thing is that this rock looks like letter "F" from the other side…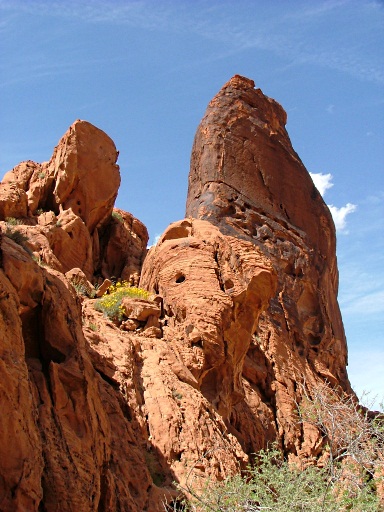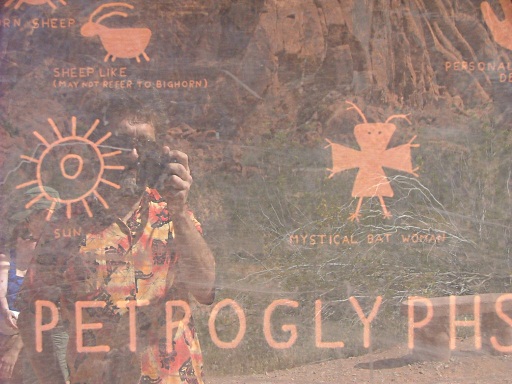 Then we drove to another stop of interest – it was through Rainbow Vista to White Domes: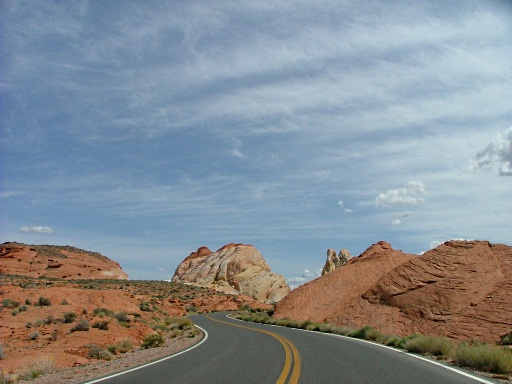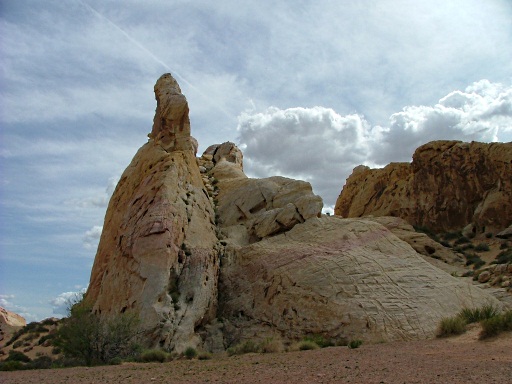 There is a pink layer seen on the sides of the Domes. Beautiful colors…can't get them right in pictures…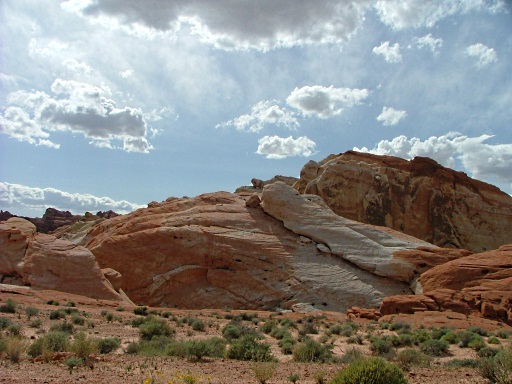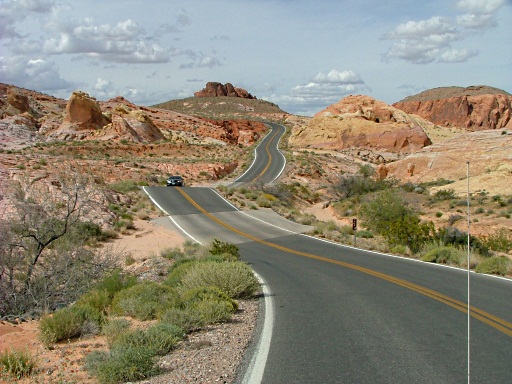 I am a fan of roads winding in landscape. It was my "thing" !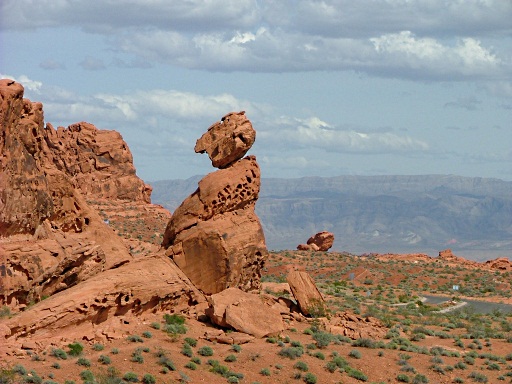 Driving back towards the visitor's center we admired this balancing rock – keeping sturdy at thins angle…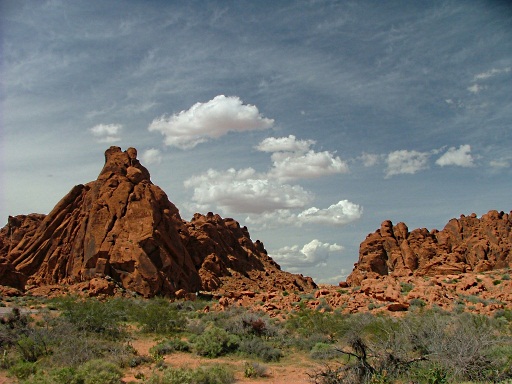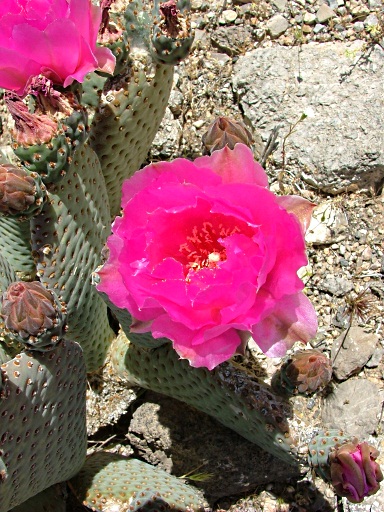 Bye bye Valley of Fire, hello Las Vegas! it is a convenient place for us to sleep in order to do some shopping at Trader Joes next morning. This time we found a really good hotel – i wonder where my eyes were earlier, why didn't I notice it… Tuscany Suites – on Flamingo Blvd., less than a mile from the Strip. The hotel is only 3 story high, no crowds or stops while you get in your elevator to the third floor, very quiet, no slot machine sin sight – they were in a separate wing. the buildings surrounded with trees and blooming bushes, lots of pink bougainvilleas by the swimming pool which is enclosed from harsh L.V. winds in between buildings. Also – live jazz in the main bar where people were dancing happily. A very intimate atmosphere. For $30/ night – we couldn't wish for more: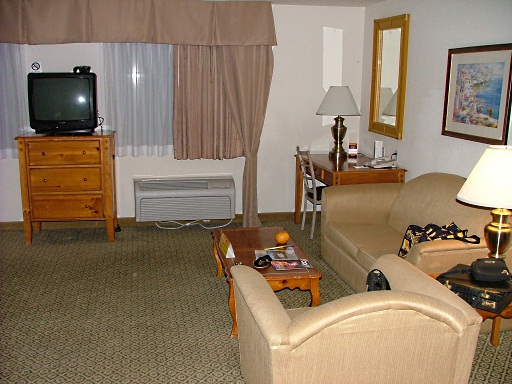 The room was huge – well, it was the suite: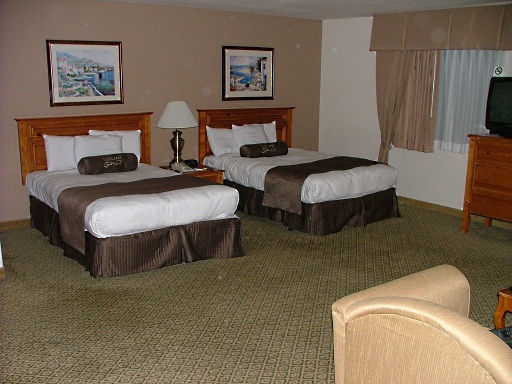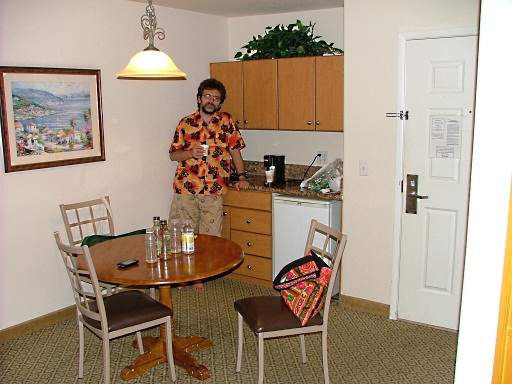 And where did we go in Vegas after taking a dip into the hot tub by the pool (BTW- the pool is open from 7 am to 10 pm – find a hotel with such long pool hours, and i promise – you won't) and eating? To Bellagio, of course… The fountains were not showing – due to high winds. But the flowers were, as usual. It was a spring theme, and this time i got a little anoyed: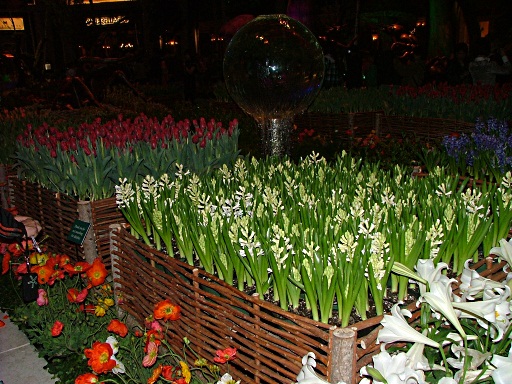 Too many flowers, who needs so many? Too big mixture – is a a good taste to mix spring, summer and autumn flowers all together that you get a chaotic chaos, a "noise in the field of beauty…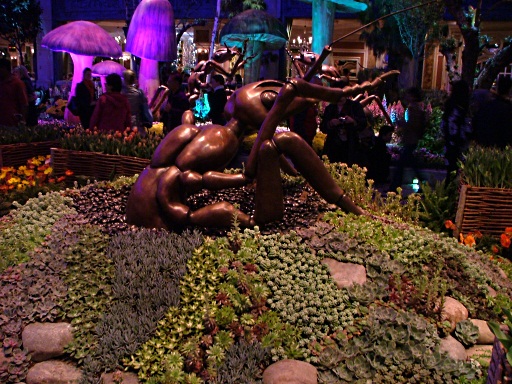 I liked the big ants here and there and luscious succulents planted on their mounds,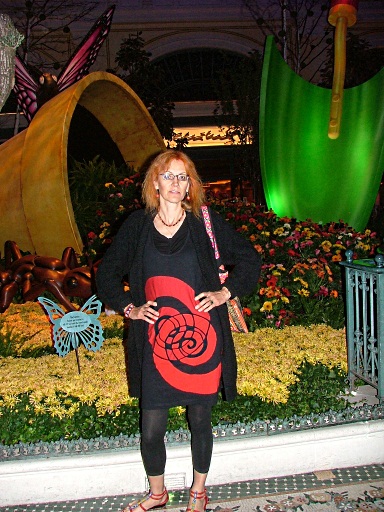 But the total composition was a disaster (excluding my dress from Thailand :-)). This big shovel – does it have any aesthetic value? the enormity of gerbera daisy plants pouring from a dull pot – where was their sense of "enough" or was there a goal to use as many plants as possible to get a better commission. See – there are chrysanthemums, together with tulips, hyacinths, poppies, lilies, etc…When seasons are so ignored – it is going against nature…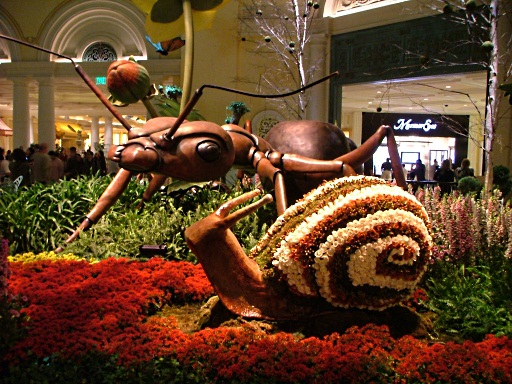 The snail's "house" is made of roses, and the bees' and frog's bodies are decorated with chrysantemums: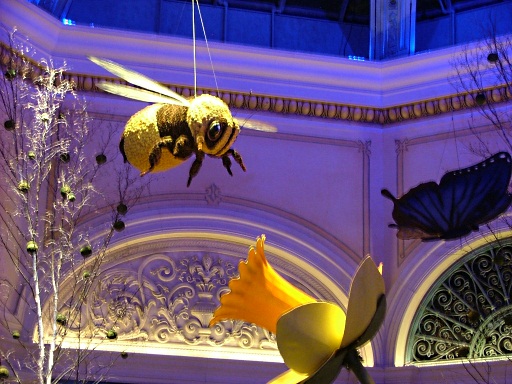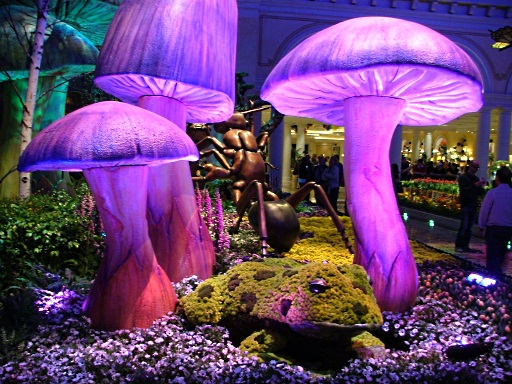 And, of course, there are artificial decors, as usual. But this was the first time I was disappointed in their design. The economy is still not strong. but they are demonstrating this strange excess…What is the point?
Some words about the Thai restaurant we ate at. My guest Daniel Pyne advised to go to the Lotus of Siam – close to Sachara ave. We found it in a Business plaza – lots of Korean and Japaneese restaurants around there and there was "it" , looking very unappealing from outside. The inside didn't look modern, either. But there was a crowd and we were amazed how do they find it there – only by word-of-mouth. I looked into their menu – it seemed good, had some fancy fishes, a good selection of wines insa special wine cupboard by the wall. But so crowdy. we had to wait in line and waiting is not our thing 🙂 So we left and found another Thai restaurant very close by in the same plaza called Komol – it even had "…and vegetarian" in their name. And it was good, it had organic engredients if to believe their menu, they had good coconut soup, non-dairy ice cream and they also had meat choices. It was good enough for us. Was it better than food in Thailand – some was, some wasn't. So thanks Daniel for directing us there. Next time maybe we will try the Lotus of Siam.