So we came. We did it! I had no time to be worried about the flight – too much work before leaving home where my mom is taking care of the house and occasional guests. She is very hospitable so no worries, if you decide to visit our B&B now – just choose the warmer weather and go! 🙂 For today there is some snow in Rockville.
Here where we are sitting in a cafe – it is warm and nice, a little humid. Auckland – the center. We started our trip at 5:30 pm Las Vegas time on Tuesday and came to Auckland on Thursday – Wednesday just disappeared…We lost a day…:-(. but the trip was not too long. The flight from LA started at 9:30 pm and ended in 13 hours at 10:30 am California time. Just one night in the plane. it was a full flight so not too much space for stretching legs or walking – exercising. but the selection of movies was good, and we managed to sleep – it was night on our bio clocks. the food was good, the stewards were nice, what else can you wish. I saw Vicky Christina Barcelona – a usual crazy Woody Allens stuff, as if he can't get away from his usual permanently unsatisfied woman's problems…but it was played by such good actresses that I enjoyed. then followed The Secret Life of Bees – if I remember the name correctly. Queen Latifah and Dakota Fanning play there. And they a re good! Dakota should get Oscar sometime. her acting can't be better. A big pleasure to see her in this tough role. A girl facing more problems and hardships she should in her age…
The hardest in long flights are the first 3 hours. Then you somehow get your body into a position and manage to sleep. Before landing – beautiful rolling green hills showed sticking form the blue-green waters. The sails of clouds were scattered all over.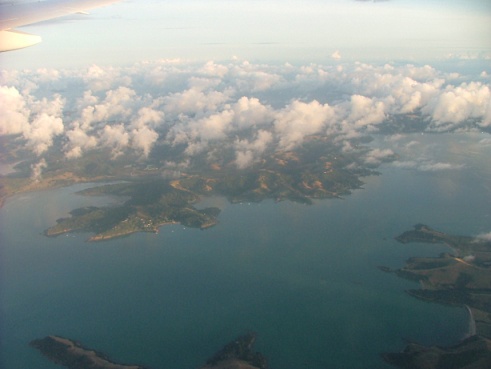 Then in the airport we were immediately introduced to Maory culture even before we passed all the control lanes: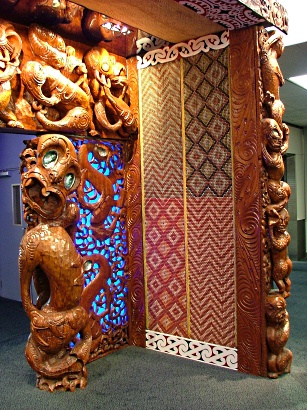 Once we landed – long lines at passport control, at luggage control. Kiwis protect their country – they have dogs who smell our bags looking for unwanted meats, plants, or something else, I don't know. Then an officer even took our snickers and disinfected them. "No" to bacterias coming to this country! So all the procedures took almost 2 h. Now we are in the center of Auckland in a Sierra cafe, using this wonderful thing called internet! While on the way from airport – it was warm, it is summer here, but no flowers. maybe they are all in the special gardens, regular people seem not to bother by growing them in their gardens. the city seems spacious, not crowded at all. But those are morning impressions, lets see what we feel later!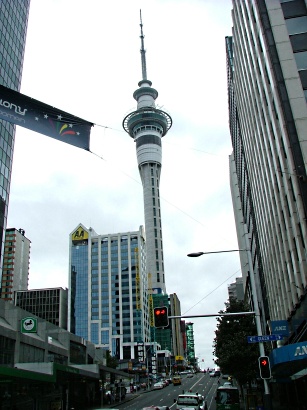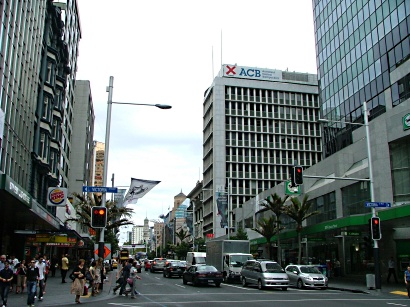 This is the main street – Queen street. When the green light comes – people cross the streets in all directions , even crosswise, which is strange to us.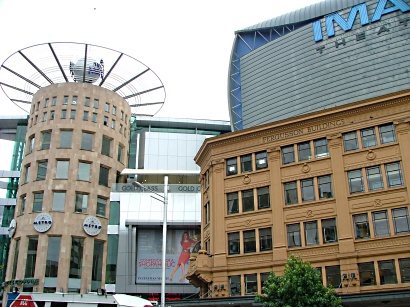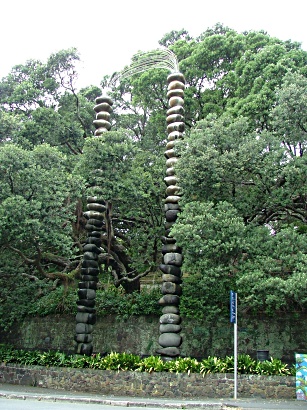 Nice little details all over…We like them. The upper sculpture reminded us Adrian's sculptures in Springdale.