We spent 5 hours in death Valley on March 5th this year. A little too short for a drive of 5 h one way…We left Rockville, UT at 8 a.m., in 2.5 h as usual reached Las Vegas, couldn't resist the temptation to stop at Bellagio and have one more look at the Chinese new year flower exhibit there (were not disappointed – the abundance of orchids in daylight looked fantastic!) and then proceeded to Death Valley NP by Rt. 160 which starts on the Southern part of Las Vegas. Three years ago the southern part of Death valley was especially in bloom, so we expected something close this year. We passed Pahrump on the way and it is quite a town to sleep, eat and have some fun. On the map it looks like the town we chose for sleep that night – Indian Springs and that was a mistake. We almost missed it in the dark, it had only one motel and one restaurant and because of the lack of competition – the quality was so so. Back to Death Valley. So we reached the entrance around 1 pm and at last saw some higher elevation flowers – primroses, dandelions, poppies. Not so dense, but still there were patches and it was sensitive to walk on that desert – not to step on a tiny blooming thing.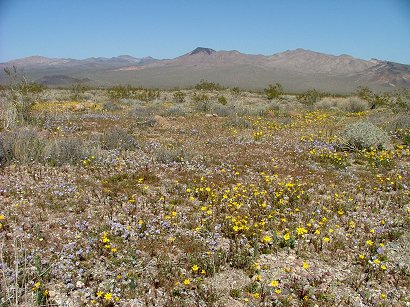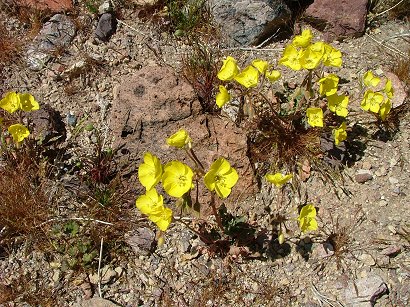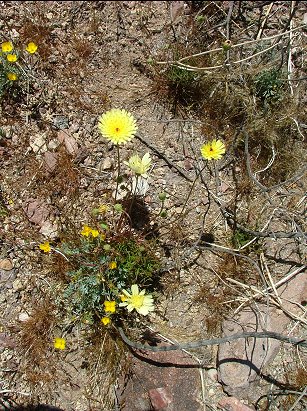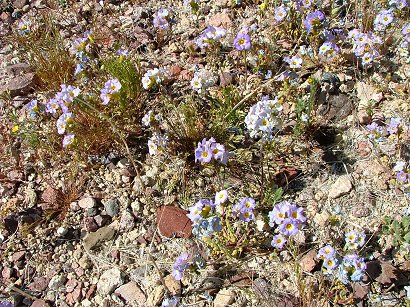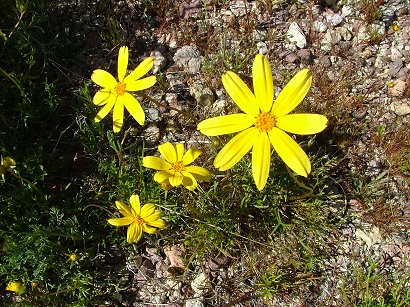 It was a perfect place for lunch among blooms. The weather was also – perfect! We left Utah at minus! 2 C and came to Death Valley at 25-30C! With the air being so dry – it the the most comfortable temp. As I mentioned -those first patches of flowers were in the elevations above 3000′ above sea level. As we started going down and down – the road twisting and going straight, still very long way, the blooms disappeared and it was only sandy – stony desert with some enduring bushes.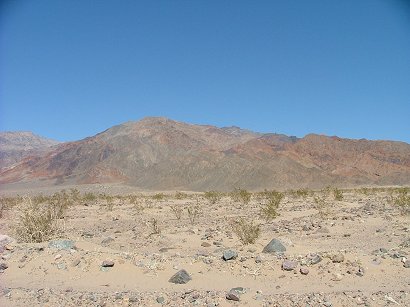 It is 50 mi from the South entrance to Bad Waters, so it takes a while to get there. We reached the lowest part of Western hemisphere at 2pm. It is a very pleasant atmosphere there, some good energy spread throughout Death Valley. But that is my subjective opinion, don't take it seriously :-). At some point in Earth's history Death valley was a long lake. Then it dried out and here we have this long and salty valley. You can walk where you want there, people have made a path where the lowest point is, ant their path is white like snow. The mud mixed with salts is constantly changing its shapes, growing. So there are some sounds of "devils playing golf" in some parts, but we didn't hear them this time. But to walk on that salty even path to space – what a pleasure!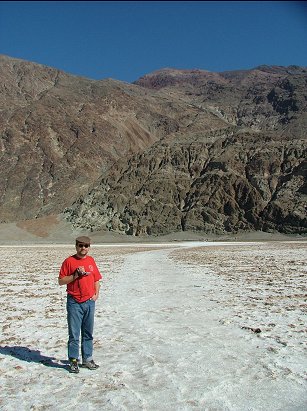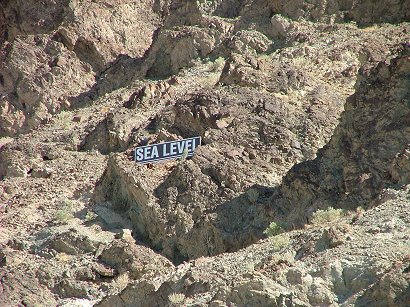 It is 282′ below sea level. There are no streams which would bring the water and very little rain. So we have this dry bottom of a lake, which is nice now but so terribly hot in summer. And this is how the road goes in that bottom: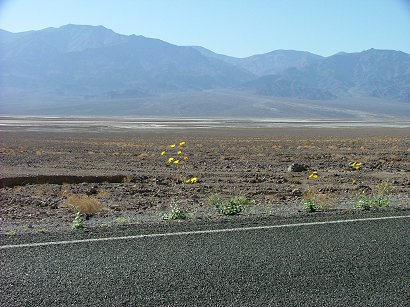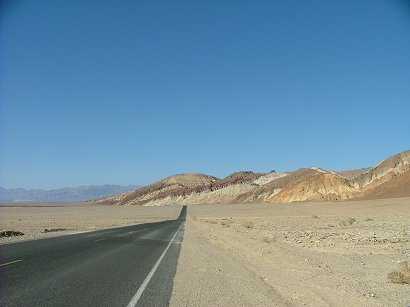 Occasionally at some point we started to notice the desert sunflowers growing in a string (why in a perfect string? why only by the road? hard to know) so close to the road that people may harm them while parking…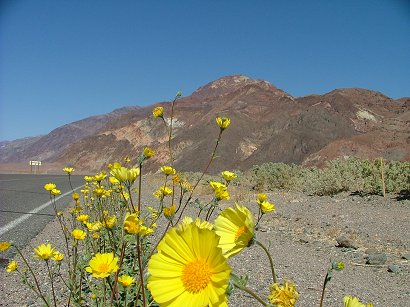 And only by Furnace Creek and by the visitor's center we started seeing a lot of them – worth stopping and taking pictures. But about that – next time…